Well I couldn't really pass up the opportunity of talking about whisky! Part of the allure of the holiday flat I let out was that we were 'close to the whisky trail'...in fact the old distillery in Buckie is used purely for storage. This fact is apparent by the black mildew that lines the old vents, doorways and nearby trees. This dark residue is a fact of maturing, and is called the 'angel's share' and will earmark any distillery or storage location.  
Visiting  friends who lived over the hill towards Keith we would pass a vast storage area for Chivas, set in amongst trees  with security fencing all round and guards at the entrance. So apart from the black lichen there was the strong smell of alcohol lying in the mist to give the position of maturing barrels of Scotch Whisky.
The working distillery and visitor center closest to us was Glenfiddich, near Dufftown. We directed guests to visit this center where a sample of whisky was provided after the tour. Of course we ourselves often did the tour, although we were both non-drinkers...well, I say this with some amazement for my teetotal husband did try the dram provided and I had to drive home whilst he expressed a desire to sleep. I recall he crawled upstairs, went to bed and emerged fully 24 hours later!
Parts of the county had been renowned for illicit whisky distilling in the past. The area known as The Cabrach was very remote and was a hive of industry in that field and it was very difficult for the excise men to locate the stills. The area around Glen Livet too was famous for distilling whisky. It was a chance sampling of the said 'brew' by a member of the Royal family that actually made distilling a lawful enterprise, but lead to the demise of  all others in the area. The museum in Dufftown provides graphic explanations of the conflict between illicit distillers and the excise men. 
Even when the making of whisky became a lawful enterprise, workers still strove to bring out contraband amounts in a variety of ingenious vessels secreted about their person.
My poem for this week is one that I read out at our last online Dead Good poetry evening, but it is worth repeating. I was leaving Keith station and beside the line was a secure compound filled with barrels of....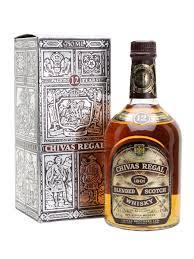 CHIVAS REGAL
Stacked barrels row upon row.
Awaiting collection and away they'll go.
From Keith station to destinations afar.
So drink a toast and have a jar-
To Scotch whisky the queen of brews.
With varying tastes and various hues.
Destined to ports across the globe.
Travel by air, travel by road,
Travel by train- far and wide.
Stacked up in hundreds side by side.
Highland water, highland spring -
Peat smoked distilled - just the thing!
Angel's share, given to the air,
Giving God his fair share.
So raise your glass, shout " Slainte Mhath"
To Chivas Regal, bound so far.
Thanks for reading, Kath
Email This
BlogThis!
Share to Twitter
Share to Facebook