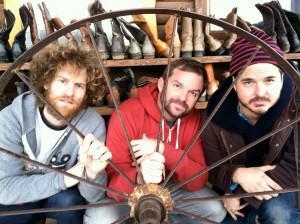 Rock group Dispatch are on tour this year in support of  Amplifyingeducation.   This multi target initiative includes restocking New Orleans libraries ( in co-operation with  Better World Books) putting new teachers in schools, improving school facilities, providing books and supplies to students and provoking discussion about education in the United States.  
All you have to do is bring  a book for K-12 students with you to one of Dispatch's shows and drop it off at the yellow school bus parked in front of the venue each night.
The guys are heavily involved in charity and awareness projects both on stage and off. They wrote and performend "Elias" about injustice in Zimbabwe. On this tour they'll be available for pre-show service projects, hosting Community Conversations with the United Way, and raising money for organizations like Teach For America and City Year. Head over to AmplifyingEducation.org to learn how to get involved in your local community, and unlock a FREE DOWNLOAD of Dispatch's 2009 acoustic performance at the Kennedy Center!
Here they are performing "Elias" with the African Children's Choir: