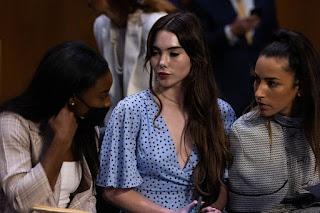 USA gymnasts Simon Biles, McKayla Maroney, and Ali Raisman

The United States might soon be in need of a new FBI director after Trump nominee Christopher Wray admitted before a Senate panel yesterday that his agents failed to protect scores of female gymnasts who were victims of sexual assault at the hands of serial predator Larry Nassar. Four gymnasts testified before the Senate Judiciary Committee that the FBI mishandled their reports, flatly falsifying victim statements in some instances.
Wray, who has connections to the Deep South (including Alabama) was a dubious choice to lead the FBI from the beginning, considering his professional ties to Russia and to the "Alabama Gang" of right-wing bad actors, which includes former Trump Attorney General Jeff Sessions. Wray even could have roundabout ties to Alabama's 2022 Republican Party primary for the U.S. Senate if Rob Riley (son of former Gov. Bob Riley) chooses to make a run, as he reportedly is considering.
Multiple sources tell Legal Schnauzer that Riley and Wray have been chums since their time together at Yale Law School, with Riley serving as senior law journal editor in 1990-91 and Wray graduating in 1992. If Wray's directorship at the FBI turns into a scandal -- one marked by mistreatment of sexual-abuse victims -- would that be an impediment to a possible Rob Riley U.S. Senate run?
That's a probing question, given that Riley has significant ethical baggage on his own. In 2008, the Federal Election Commission (FEC) fined him $10,000 for his role in a campaign-finance ethics case. In 2013, Riley sought my unlawful arrest and incarceration over a civil case of alleged defamation, which received national and international news coverage for its blatant trampling of First Amendment principles. I was arrested because Riley sought a temporary restraining order and preliminary injunction, both of which have been found to be unlawful prior restraints under more than 200 years of First Amendment law. (See Near v. Minnesota, 283 U.S. 697 (1931). It makes you wonder what Riley and Wray learned at Yale about constitutional law -- and if either one of them even supports a free press. Sara Rafsky, of the Committee to Protect Journalists (CPJ) wrote an insightful analysis of Rob Riley's trampling of free-press rights and even spotlighted press statements he made that are plainly false.
As for Christopher Wray, if his FBI botched the U.S. gymnastics case, how many other cases has the bureau screwed up or ignored completely? Consider two cases of what appear to be attempted murder in the Birmingham area:
(1) The Bert Newsome vehicle crash -- In September 2020, Birmingham attorney Burt Newsome was hit head-on by a large SUV as he was engaged in litigation involving powerful corporate and legal entities -- Balch & Bingham, Alabama Power, Drummond Company -- in Alabama. From our report on the crash: 
The questionable ethics of the Balch Bingham law firm have been unmasked for the public, most prominently in the North Birmingham Superfund bribery case; perhaps most stunningly in the head-on vehicle crash that nearly claimed the life of attorney Burt Newsome, a recent courtroom adversary of Balch and its clients (Alabama Power, Drummond Company).

Evidence from the scene suggests the crash might have been staged, perhaps designed to intimidate, injure, or even kill Newsome. He did, in fact, sustain grave injuries, but is recovering from emergency trauma surgery and has even made a few trips to the office. 

[We invite you to check the crash-scene photo (below) and note the SUV's wheels are turned sharply right, directly into the driver's compartment of Newsome's vehicle; a similar turn to the left might have missed the Newsome car altogether, or at least, placed the impact on the passenger's compartment, which was vacant. Does this mean the SUV driver meant to hit not only Newsome's car, but the area where Newsome was seated?]

Two big questions: If the incident was staged, who staged it? Why was a Norfolk Southern employee driving the SUV, many miles from the company's local HQ in Irondale? We do not have the answers at this time.
(2) The shooting into David Roberson's vehicle on U.S. 280 -- In late February 2021, former Drummond executive David Roberson was driving south on 280 when someone fired a shot into his vehicle. From our report on the incident: 
The plaintiff in a $75-million lawsuit against Drummond Company and the Balch Bingham law firm was driving south on U.S. 280 near Birmingham on Friday when someone fired a shot into his vehicle.

Former Drummond executive David Roberson escaped shaken, but apparently unharmed. Details about the incident are scarce at the moment, but Roberson reported it to law enforcement. This marks the second time someone connected to the lawsuit has met with violence that apparently was designed to intimidate, severely injure, or kill. Burt Newsome, attorney for Roberson and his wife Anna, was hit head-on in a crash where the driver of an SUV appeared to veer directly into Newsome's Volkswagen Jetta. Newsome sustained a broken leg, which required insertion of a titanium rod during trauma surgery at UAB, along with other injuries.
Our research indicates that Christopher Wray's FBI has shown little or no interest in either case -- and the same goes for local law enforcement. Why? The USA Gymnastics case indicates Wray's FBI doesn't take much of anything seriously -- even child sexual abuse, of girls who went on to become athletes with world-class skills. From a report at Axios: 
Before a rarely unified Senate panel, the head of the FBI apologized for his agents failing to protect scores of U.S. gymnasts who were victims of sexual assault. 

"I am deeply and profoundly sorry to each and every one of you," said Director Christopher Wray.

Four gymnasts — McKayla Maroney, Simone Biles, Aly Raisman and Maggie Nichols — testified before the Senate Judiciary Committee and detailed how the FBI mishandled their reports.

Maroney said the FBI "chose to lie about what" she said about the abuse she suffered at the hands of Larry Nassar and "protect a serial child molester rather than protect, not only me, but countless others."
Raisman said agents told her "to keep" her reports "confidential and not tell anyone."
Biles also blamed "an entire system that enabled and perpetrated his abuse."

The bottom line: "I am sorry that so many people let you down over and over again, and I am especially sorry that there were people at the FBI who had their own chance to stop this monster back in 2015 and failed," Wray told the victims. 

Nassar is serving 40–175 years in prison. The FBI fired an agent accused of failing to properly investigate the sexual assault allegations, Wray said.
That Wray's FBI has proven to be incompetent and crooked should be no surprise to those who know about the director's previous associations, including those in Alabama. We will address those in upcoming posts.
(To be continued)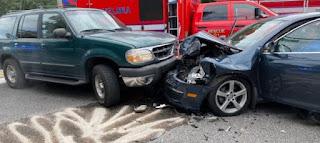 Burt Newsome crash scene