Dino Run, the first of all endless runner games which inspired popular mobile games like Temple Run, Tiny Wings, Monster Dash is finally getting a well deserved sequel.  Indie developer Pixeljam has turned to Kickstarter to fund Dino Run 2, the "next generation" version of the side-scrolling prehistoric platformer.
In Dino Run 2, the game story is simple. "An asteroid has just hit and the doom is on your tail… Run!" This pretty much sounds like the premise of any other endless runner. But, Dino Run 2 is much more evolved than those games as you get to play as many dino types including Velociraptor, Archaeopteryx, Parasaurolophus and many more in levels that changes every time you play, as well as improved gameplay physics that will offer a whole new level of a dino-adventure experience to gamers. Click here for a detailed list of game features.
"With Dino Run 2, we're taking the genre in a whole new direction," Miles Tilmann, VP of PixelJam told Fresh Infos. "No longer a runner, Dino Run 2 takes the formula it inspired and adds multiplayer, exploration, co-operation and a real sense of urgency and adventure. "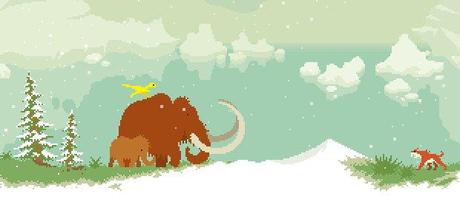 Read Also: Need for Speed Rivals Next Gen Gameplay Trailers for Xbox One & PS4
Dino Run 2 also shares the same pixelated game environment and design of its' predecessor. It's a wise choice, given that more gamers are into retro-style games these days. Besides, who wouldn't want to take a dino on another extinction escape. Dino Run 2 will be developed for Mac, PC, Linux, OUYA, as well as  iOS and Android, given the success of this campaign.
Head over to Dino Run 2 Kickstarter page for more info and back the project.


(All the images, trademarks, logo's shown on this post are the property of their respective owners)
Follow @nrjperera - Roshan Jerad Perera