I had had Ethiopian food once before and remembered relishing it a lot. So when I was invited to try the new menu as Etete, I was excited. We arrived a little past six pm for our dinner reservation (right after this outfit shoot). We were greeted by the host and directed to our table right by the window. I was instantly impressed with the ambiance at the restaurant. Personally, for me, date nights are about the vibe at the restaurant as much as the food.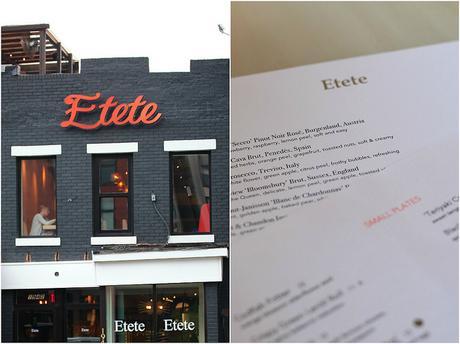 Soon after we met our server Harry who was friendly and made some great recommendations over the course of our meal. I was extremely pleased to see various vegetarian/vegan options on the Menu. For once I didn't have to rely on a salad but instead could indulge in a complete healthy-hearty-meal.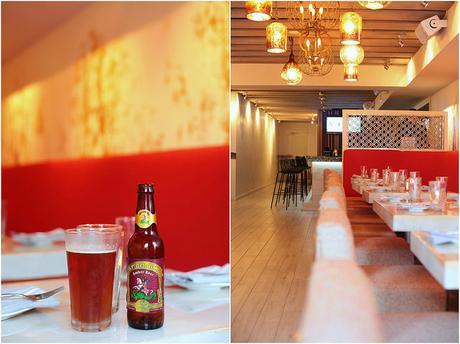 My husband decided to try the Ethiopian beer while I stuck with sparkling water. We first ordered the Yellow Lentil Hummus with Injera chips, because when I see any version of hummus on the menu, I cannot resist but try it. It did not disappoint and those chips were quite addictive. My husband had to ask me to pace myself so that I have space for the food.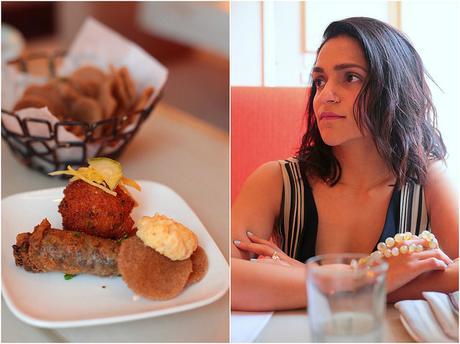 We ordered three more small plates to share between myself and my husband - Black Eyed Pea Fritters, Crispy Green Lentil Rolls and Blistered Sardines. I tried everything except the Sardines (hello! vegetarian here!) and must say the Lentil Rolls and the Hummus was my favorites. I was surprised when my my husband ordered the S ardines as he rarely enjoys them, but he couldn't stop raving about them here. He enjoyed it's citrusy flavor and that they were served over toast.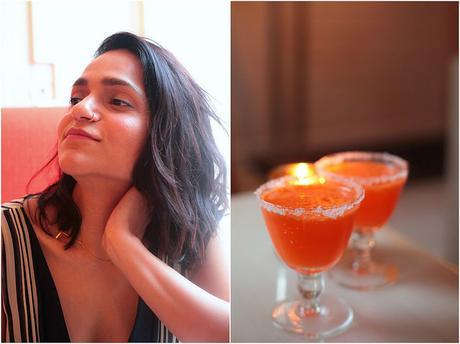 While we waited for our meals, Harry treated us to this refreshing cocktail called - 24 Karat. (Ingredients - tequila, St Germain, passion fruit, fresh carrot juice, fresh lime juice, bird's eye chili syrup) It was a perfect spring drink. Not too alcoholic but with a exhilarating kick to it. I would highly recommend it.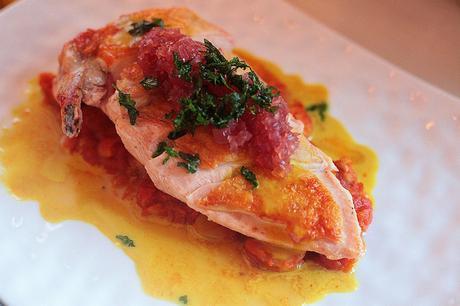 Now on to my favorite part of the Ethiopian cuisine- Vegetable platter. Injera (bread) served with Smoked Carrots & Cabbage, Collard Greens, Potato Salad, Yellow Split Peas & Red Lentils - is good to share between 2-4 people but since my husband is not a vegetarian he ordered himself the Turmeric Chicken. A special shoutout to the red lentils they were flavorsome and spicy, something I truly appreciate in my food. A my husband would like me to mention the collard greens, he really enjoyed them and literally finished them clean.
This was also the day I realized I can never be a food critic or a food taster. I would blow up as a balloon as I have zero self control when it comes to good food. Believe it or not we finished 80% of the food so far between the two of us. Two weeks later I am still full. I am kidding!
Now, in my defense I refused to have dessert. There was no space in my stomach. But Harry, our server, insisted and I thought to myself, " Ok! I can just have a bite!" - Needless to say, with my poor self control, I finished the almond cake with chocolate gelato and oranges. P.S. I am still paying for this meal at the gym.
If you looking for a place with flavorsome food, charming ambiance and friendly service, I would suggest you make a reservation at Etete and thank me later!
I was invited by Etete DC to try their new menu. All opinions mentioned are my own.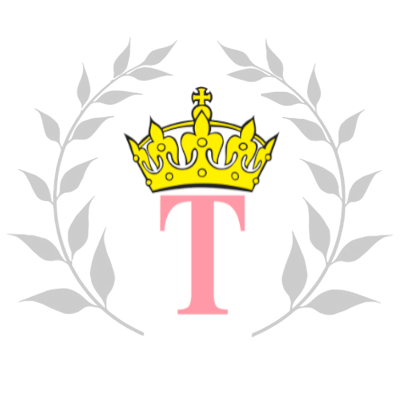 Blogger, Stylist, Storyteller, Fitness Enthusiast, Experimental Cook. If you have questions in any of the mentioned areas or have feedback, feel free to contact me at [email protected].