Growing up in Canada meant growing up on hockey (ice hockey that is, not the game you play on grass with small wooden spoons). I had attended a few football games (Canadian/American) when I lived in Edmonton (Go Esks!) and do enjoy a good game of football too, but that was pretty much the extent of my sport watching. That was until I moved to Korea. It was here I would discover soccer (football to you non-North Americans) and learn to love it.
My favorite Korean team is FC Seoul and they play in the K-League, which is South Korea's only professional soccer league. They play at Seoul World Cup Stadium, which is where we went on Saturday night.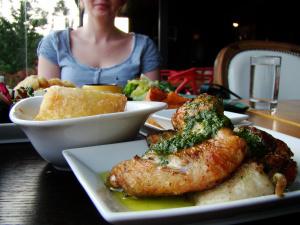 Some of my Berlin Platter
Before the game we went to Berlin Restaurant in Itaewon for dinner. Most of the food was tasty but the portion sizes were a little small (don't go if you're overly hungry). The view was enjoyable as one wall of the restaurant is a giant window that looks out onto Seoul's traffic. Watching cars, trucks, buses, scooters, motorcycles and bicycles may not sound like an enjoyable view but it's fun to see the poor choices the drivers make.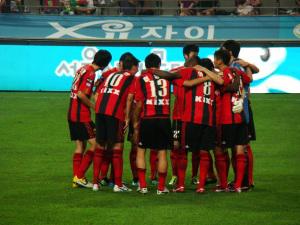 FC Seoul Team Huddle
The soccer match was one-sided and a great match to watch. FC Seoul scored during the first 5 minutes and would score 3 more goals before the match ended, beating a definitely weaker Gwangju FC. FC Seoul, who are the current K-League champs had a shaky start to their season but now are climbing the table and are in 6th. Which makes this FC Seoul fan very happy!
My love of the "beautiful game" has certainly grown since moving to Korea. I still enjoy hockey of course (my favorite sport) and football (Go Esks!) but, I am now an active supporter of the world's most popular sport, soccer.
Check out the rest of the pics here.