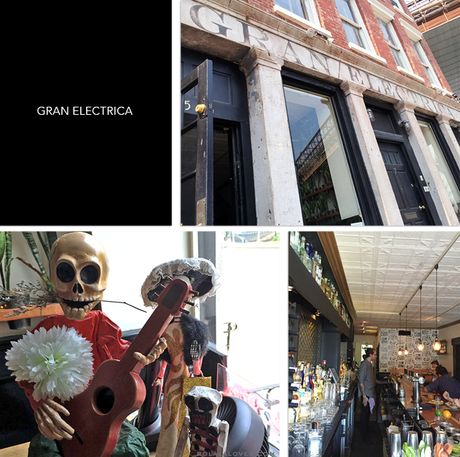 I may live in Manhattan but I'm certainly willing to leave it especially when good food is involved. Gran Electrica is located on Front Street by the Dumbo waterfront and we walked across the Brooklyn Bridge to get there. This popular Mexican restaurant features a rustic and homey feeling space with a beautiful backyard garden. What caught my attention most about the decor is the black and white wallpaper that covers the back dining room. It presents in the style of a Day of the Dead themed toile depicting skeletons in scenes that reflect the local neighborhood life including hipsters walking about, riding bikes and talking on their phones. It's quite humorous and cool at the same time. Onto the food. The guacamole and chips were just okay. Nothing really to get excited about and could have done with more flavor. Their horchata (a Mexican drink made with rice, milk, vanilla, and cinnamon) was refreshingly delicious and well balanced. A lot of places tend to make it super sweet and they got it just right. While the guacamole was a little disappointing, the tacos were excellent. We got the three kinds and they were all tasty in their own right. The Ensenada Fish with crispy fish, cabbage, cream, avocado salsa and the Language with beef tongue, onion, cilantro, lime, green salsa were our favorites. The Carnitas were good too and the hand pressed tortillas held up to the fillings well. Our service was friendly but a little slow. I would probably skip the guacamole next time and maybe give the esquites a try but the tacos are definitely worth a return visit. 
Are you a fan of Mexican food? What's your favorite thing to have?
Have you entered my Firmoo giveaway? You can win a pair of stylish glasses or sunglasses of your choice!
Gran Electrica
5 Front Street
Brooklyn, NY
718.852.2700
$$
CONTINUE READING ≫
bloglovin' ♥ instagram ♥facebook ♥ google+ ♥ twitter ♥ pinterest ♥ etsy