New to little Indiana? Subscribe for free to my RSS feed. Thanks for stopping by!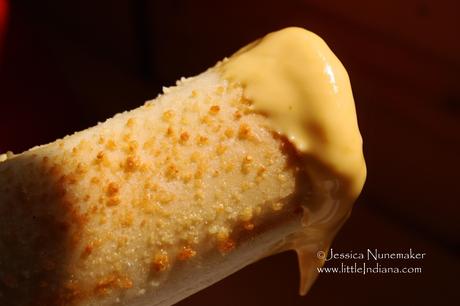 Buck Creek Pizza in Dayton, Indiana
I hear the Star Wars fanfare music playing when I look at the image of that breadstick from Dayton Station in Dayton, Indiana. Can you hear it, too? But if you think the breadsticks are good…just wait until you try the pizza!
Dayton Station in Dayton, Indiana
We've already covered my Indiana town pizza obsession. It takes a lot to "wow" me–something the big chain restaurants don't ever do. But Dayton Station, a family-friendly small town business, did! It's a great example to anyone who is big box addicted: You don't need to eat at the same old places to find really good food (and, honestly, you won't find it at those places, anyway).
Inside Dayton Station

It's like walking into a lodge! There is a really fun cabin feel. The walls and ceiling are covered in wood planks. The tables? Yep, they match too  (and are giant)! Even the chairs match–and the seats are generous and super comfy. Did I mention they are wood, too?
We weren't the only people having an early lunch at Dayton Station. A few police officers sat at one table and a couple of tweens sat at the other. We took the last table after placing our order: Pepperoni and sausage pizza with an order of breadsticks.
The Pizza Has Landed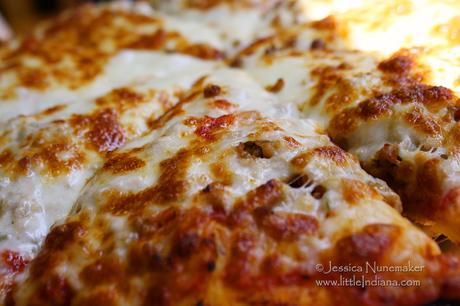 Buck Creek Pizza in Dayton, Indiana
Piping hot out of the oven, our breadsticks, as I mentioned before, were fantastic! Super soft with the right amount of seasoning, with Marinara sauce for dipping for the kids and a zesty Jalapeno Cheese sauce for us.
When the pizza arrived? We ditched them. We ditched them and dug in to our crispy browned pizza and didn't look back. Residents of this Indiana town are so lucky!
Dayton Station makes a nice and tall pie. They brown the top so it's crisp, eye appealing, and yet–not overdone. Really, this is pizza perfection. Our waitress had recommended a 10″ pizza with the addition of breadsticks and she was right on target. We were full and didn't have any leftover!
Thank You
little Indiana would like to extend a sincere "thank you" to the son of our server who was on his way home from Iraq. We know how tough the waiting can be. He will be headed back there in two weeks and we wish him the best as he completes his third tour!
Dayton Station
2988 Dayton Road
Dayton, Indiana 47941
765.296.7950

View Larger Map
little Indiana: Where to Stay, Play, and Eat in Small Towns in Indiana. Discovering Indiana's best small towns! Now get little Indiana on your Kindle.
New! Offering affordable online advertising for your small Indiana business! little Indiana Businesses is the online presence that you've been looking for.