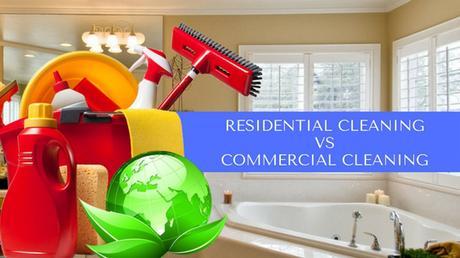 House cleaning is an essential part of every household chore. You cannot imagine postponing the cleaning part because it demands to be done on a regular basis or else it gets harder later. With the increasing demand and necessity, house cleaning has now become a big industry which includes several types of businesses. Depending on the nature of services provided and requirements, cleaning is categorized into several types out of which the most popular categories are residential cleaning and commercial cleaning. While the end results are same, they are slightly different from each other. In the major cities, house cleaning is considered as a very necessary requirement. House cleaning in Atlanta is one of the most demanded jobs. Continue to read our latest blog to know the difference between residential and commercial house cleaning -
Residential cleaning
Residential cleaning is the most demanded and popular one. Residential cleaning is often referred as maid service. Residential cleaning includes the general house cleaning that every homeowner requires. From the cleaning of the kitchen to bathroom, residential cleaning also includes bedroom cleaning and maintenance, vacuuming, dusting, sweeping and mopping. Residential cleaning is also of various categories likes regular cleaning, spring cleaning, one-time cleaning, and move-in/move-out cleaning and recurring cleaning.
Commercial cleaning
Commercial cleaning is another popular type of house cleaning services in Atlanta. However, it is slightly different from residential cleaning. Commercial cleaning includes cleaning of offices, business buildings, and premises. This business turns out to be beneficial for the business owner in the big city. The service is generally done after the working hours either at night or weekends and includes general cleaning duties of office premises. Since, nowadays, most of the offices are comprised of kitchens and have cafeteria and showers, the cleaning services include both residential and commercial cleaning services.
Apart from residential and commercial cleaning services, there are two more categories, namely, steam cleaning and carpet cleaning. Steam cleaning includes cleaning and maintenance of carpets in commercial and residential buildings while steam cleaning is used to turn a dirty carpet or upholstery furniture into a clean and good looking one.
Another category of cleaning is spring cleaning. A spring cleaning includes everything that is included in your regular cleaning with some extra tasks of cleaning. Spring cleaning is often referred as deep cleaning as it includes dusting on door frames, window sills, baseboards, ceiling fans.
As mentioned, the end result of residential and commercial cleaning services are same. It is just the matter of words and the kind of place one is working.