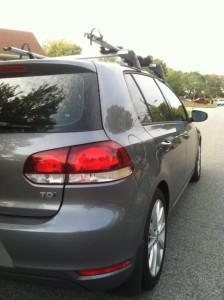 If you talk to European car enthusiasts, they simply won't understand why diesels aren't more popular in the United States. Diesel-powered vehicles return significantly better gas mileage than gasoline—usually between 25 and 30 percent—and are not anywhere near as loud or dirty as many people would have you believe. But, it wasn't always so.
Until the Environmental Protection Agency (EPA) tightened sulfur regulations in 2006, diesel fuel was filthy by comparison. Previously, it contained a maximum of 500 parts per million (ppm) of sulfur, whereas the new diesel, called Ultra Low Sulfur Diesel (ULSD), contains a maximum of 15 ppm. By 2010, all highway diesel fuel stations switched over to ULSD. The cleaner fuel, combined with effective (though very costly) exhaust-scrubbing technology, has started to reshape Americans' deeply rooted opinions of diesel.
Overall, sales of diesels were up 27.4 percent in 2011 compared to 2010. According to a recent Forbes article, diesel vehicles' share of the non-luxury compact car segment surged from 2.1 percent to 23.6 percent between 2007 and 2011. Perhaps more telling, however, is the "repurchase loyalty" metric for diesel vehicles, which increased by 9 percent to 28 percent between 2008 and 2011. The positive repurchase trend for diesels is in contrast to that of hybrids, which fell several points to 35 percent in 2011. Market research group Baum and Associates predicts that diesel powertrains will comprise up to 6.5 percent of U.S. car sales by 2015, up from just 3 percent today.
It appears that high-end European car manufacturers are best-positioned to benefit from this development. U.S. automakers are not scheduled to release any non-pickup diesel vehicles until next year (e.g. the Chevrolet Cruze Diesel). Despite the premium clean diesel exhaust technology adds to the cost of vehicles, Volkswagen, Audi, Porsche, Mercedes, and others are doing surprisingly well in the nascent U.S. diesel market. For once, it's actually good they don't make them like they used to.
Image by author