I am becoming a
Walküre
completist. With my mother, I attended Saturday's matinee at the Met, but will make this a brief report. Let me pass over the Lepage production in comparative silence (for once!) It is so very
dull
, so lacking in any apparent imagination except the visual. The only fresh insight it has inspired in me is: I really need to go to Germany. Saturday's orchestral performance seemed slightly cool, with a lyric melancholy that served the latter two acts better than the first
.
Coordination issues, however, were noticeably improved from the previous cycle's 
Walküre.
Luisi and the orchestra were notably supportive of Frank van Aken, making his Met debut as Siegmund. I regret to note that the Machine's Walkürenritt configuration drew applause from the audience, but the Valkyries themselves contributed excellent work, with strong and exciting singing. (My mother opined moreover that Eve Gigliotti deserved awards for bravery, "getting back up on the horse" with a vengeance after the Machine bucked her in last year's run.)
Hans-Peter König made an impressively stentorian Hunding, coarsely possessive of Sieglinde, coarsely threatening towards Siegmund, and singing with diction that dripped with contempt. Stephanie Blythe was impressively rich-voiced as ever as Fricak; the constraints of staging her in her chariot are increasingly irksome to me. Eva-Maria Westbroek made a very touching Sieglinde. Her ardent singing was notable for beautiful tone and phrasing, especially in the first act. She sounded slightly fatigued by the end but still very expressive (I admit to tearing up at "O deckte mich Tod, dass ich's denke.") Frank Van Aken's Siegmund was indisputably valiant, and admirably engaged, but vocally underpowered. He has a bright voice which I might gladly hear in a smaller house, but here he sounded rough at the top of his range. Lack of rehearsal or nerves might account for his errors of omission and commission with the text; I found these distracting. Bryn Terfel's Wotan continues to be incredibly exciting. At Saturday's performance, his god was visibly and wildly despairing. Terfel did growl in places for effect, but sang expressively and responsively. His treatment of text--intellectually and emotionally nuanced--continues to delight me. ("Götternot!" gave me chills.) The Abschied was sung with beauty and power, and acted with profound tenderness and profound sorrow. Even as Brünnhilde begs for a softening of her sentence, Wotan reaches out as if to take her hand. Throughout the fraught dialog, Wotan himself seemed on the brink of weeping... and I sobbed. Katrina Dalayman gave a vocally solid performance as Brünnhilde, if not (to me) a terribly involving one. She sang the second act with accuracy, but without much ardor. Dalayman did bring warmth and sweetness of tone to the final scene. I was an emotional mess as the fire rose around 
Brünnhilde's cliff, which may be no bad way to leave a 
Walküre.
Curtain call photos: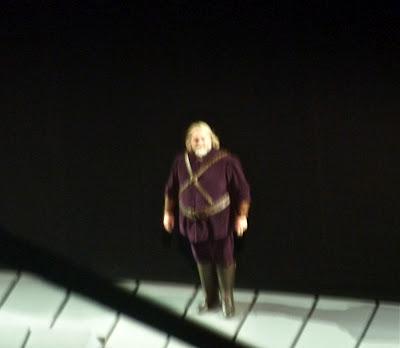 König (Hunding)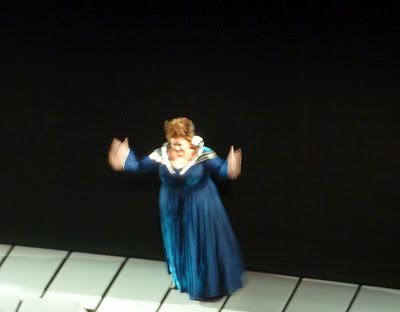 Blythe (Fricka)
Van Aken (Siegmund)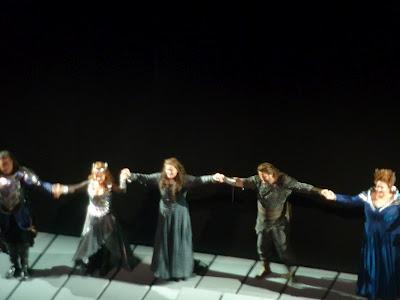 Act II bows: Terfel, Dalayman, Westbroek, Van Aken, Blythe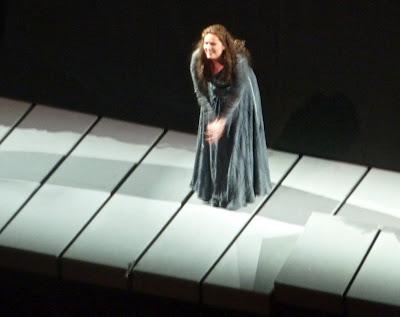 Westbroek (Sieglinde)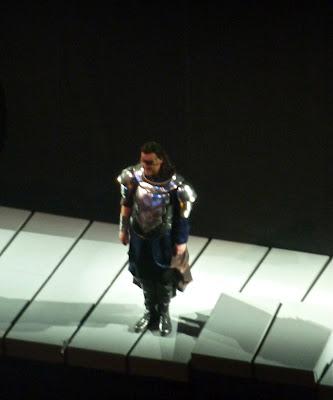 Terfel (Wotan)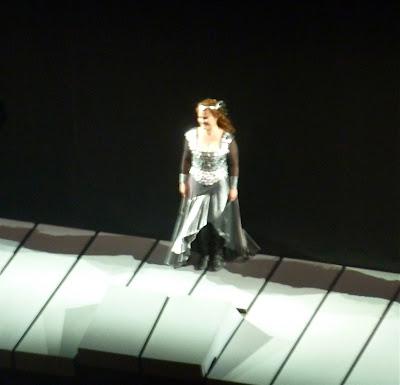 Dalayman (Bruennhilde)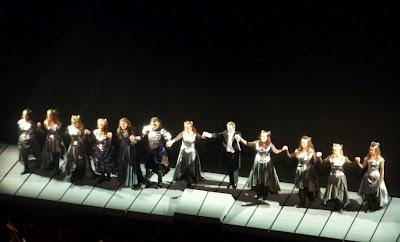 The Valkyries, their dad, and Maestro Luisi
Postscript for those keeping track: yes, my mother is still attending Wagner, still primarily for Jonas Kaufmann. She was disappointed by his cancellation but excited by the chance to hear a different conductor's interpretation. She finds Bryn Terfel very impressive: "Not just his voice, but the way he strides around and leaps and everything!" And she's dead set on seeing next season's
Parsifal
.