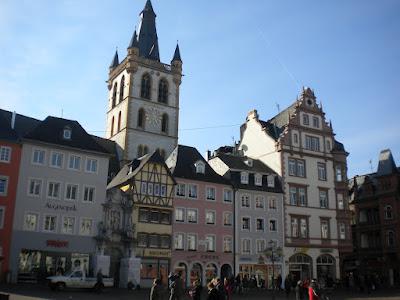 Trier's Hauptmarkt square, with St. Gandolf's Church
One thing I expected from the orderly Germans was that their trains would run on time.  So even though I had to change trains twice from Trier to Munich (at Koblenz and Mannheim) I felt confident I'd arrive at 4:30 as scheduled, get to my hotel by 5:00 and be ready to meet my friend Katie at 6:30.
There was no problem getting from Trier to Koblenz, but the train from Koblenz to Mannheim arrived 20 minutes late.  Since the connections only allow for 10 minutes between trains, this meant I was going to miss my connection in Mannheim.  I asked the conductor on the train what to do, and he said the next train to Mannheim was an hour later.  Okay, not so bad.
Would that I had accepted my hour delay.  But no, it seemed we made up some time on route, so when the voice on the train announced our arrival and connecting trains to Munich on track 5 I just ran over to track 5 and stuffed myself onto a very packed ICE.  Only after I was sandwiched in and unable to move did I think to confirm that the train was going to Munich.  Off course, it wasn't:  This was the ICE to Paris.  I was unable to maneuver myself and my suitcase (when will I learn to travel light?) off the train before it took off, requiring me to ride for 45 minutes to Kaiserslauten.  Once again I asked the conductor for advice, and he said the best thing to do was to go back to Mannheim on the ICE from Kaiserslauten an hour after our arrival.
For some reason I fought against this sensible advice and checked out the timetable for myself.  It looked to me like there was an ICE  every hour to Mannheim, so I wouldn't have to wait an extra hour.   After I boarded the train to Mannheim I realized that those ICEs are only every hour on weekdays.  The train I'd jumped on was a local.  This meant not only a less comfortable train, but also (after the realization that I didn't know now long the trip to Mannheim on a local would take) additional worry about missing the next connection to Munich.
As it happens, I arrived in time and even had time for a ridiculously overpriced cup of tea (2.50 Euros) before finally getting on a train to Munich.  I managed to send Katie a facebook message and we agreed to meet later, so disaster was averted.  Still, I wouldn't recommend this route.
Lessons learned:  1.  Try to avoid routes that require two changes; that's just asking for trouble.
                             2.  Travel during the week; there are more options in case you  have to reroute.
                             3. Trust the guys working on the trains and looking at the computers to give you                                    the correct information, and do what they tell you.
   4.  Look at the actual train to confirm its destination before getting on it.
   5.  For god's sake, learn to travel light.  Schlepping a suitcase around
      just makes things worse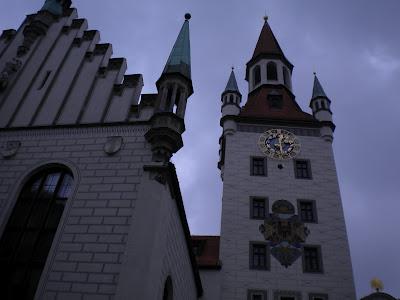 Munich: Better late than never