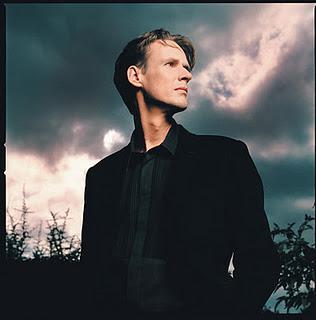 Bostridge; photo (c) Simon Fowler
Ian Bostridge and Thomas Adès created an extraordinarily rich, revelatory program at Carnegie Hall on Monday evening (complete program listing here.) From the outset, their partnership was characterized by a boldness in interpretation which brought intensity and intimacy in equal measure. John Dowland's "In Darkness Let Me Dwell," with its struggle for articulacy, its embrace of "hapless joy," set the tone for the evening; Adès' own "Darknesse Visible" was given without any pause, rising out of the eerie silence, shivering with sounds jarring and haunting. Bostridge's assurance with text and sense for phrasing brought an aptly hallucinatory feel to György Kurtág's Hölderlin setting. The liquid, exquisite opening of "Im wunderschönen Monat Mai" was brought out of the silence created by the previous piece, guiding us into a 
Dichterliebe
that, initially dreamlike, would become increasingly like a fevered nightmare. The incisive, often ironic edge to Adès' playing supported Bostridge's savage interpretation, most notably in "Im Rhein, im heiligen Strome," in the delirious "Das ist ein Flöten und Geigen" and the bitter, furious attack of "Ein Jüngling liebt ein Mädchen." Bostridge's cycle was fascinating throughout, bringing a wonderful range of vocal colors and unexpected twists to the phrasing. "Die alten, bösen Lieder," with its anticipation of death, descended almost into
sprechstimme,
a chilling, comfortless eulogy.
After the interval, Adès gave a masterly account of Liszt's "Petrarch Sonnet No. 123," subtler perhaps than it deserved. Perhaps it's a personal bias, but I felt the Liszt lieder suffered by comparison with the emotional specificity and nuance of Schumann and Schubert. Still, Bostridge brought a beautiful interiority to "Es muss ein Wunderbares sein," especially. The closing selections from "Schwanengesang" were varied in expression, but unremittingly intense. I appreciated that "Das Fischermädchen" was given with a focused, seductive snarl that made it clearly another expression of the poet's anguish and anger, rather than a respite from it. Adès made the shimmering chords of "Die Stadt" chillingly
unheimlich. "
Der Doppelgänger" was, to me, nothing less than terrifying. The expression Bostridge gave to "Schatz" in the first line was a foretaste of what was to come. The chords from the piano felt like the only sounds in an unnaturally hushed world. There was a chilling pause between the horrifying reveal--"meine eigene Gestalt!"--and the apostrophe: "Du Doppelgänger..." The deathly silence at the end was succeeded by enthusiastic applause. After we'd all recovered a bit, Bostridge generously gave two encores: Caliban's hauntingly beautiful aria from Adès
Tempest
("Be not afeard. The isle is full of noises") and, after still more enthusiasm, an exquisite, subtly spun account of the song I had been most sorry to see left out of the
Schwanengesang
selections: "Ständchen." When I expressed my great happiness to the Beloved Flatmate, she pointed out that the evening had been one of depression without a glimmer of redemptive hope. Yes... but I got my
lieder
fix, and it was excellent.