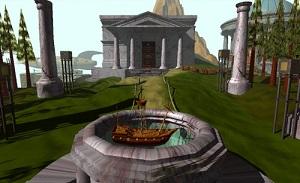 Emily Yoshinda from Grantland wrote an amazing piece on looking back at Myst and reading the work sparked an interesting debate between Maranda Gibson and David Byrd.
Did Myst open a door for the games that we know today? Or did human nature slam the door in the face of adventure games in the 2000s?
Maranda disagrees with the implication that Myst and games like it went "kaput" after 93.
"Myst brought the entire adventure genre to life and a lot of really amazing games came after it - like the entire series of Lucas Arts adventure games. Somewhere along the line, we stopped wanting to 'thin' to play. We wanted games to be a 'release' and for most of the buying public that meant taking out aggression on alien life forms or unsuspecting 'ladies of the night'."
"What changed? We did. 'Gamer' was a term suddenly applied to teenagers in their basement hopped up on Red Bull and Mountain Dew. It is no longer about "escaping" into a world. Gaming is different now, because we are."
David sees the doors that Myst opened, rather than the ones that were closed as these kinds of adventure games faded in popularity.
How many LucasArts games were there after 1993? I agree that Lucas Arts had some great games up until it's demise this past year. But, the Myst genre pretty much fizzled out. However, I think it was a needed stepping stone for the open world games today.
"Games like Halo and Call of Duty allow you to tackle specific challenges in your own way. This is not just a 'release' and you have to think, and think quickly. Although there are some games that don't require thinking, most popular games require more than just button mashing. Add in the open world games like Assassin's Creed, and you have quite a bit of thinking going on. Games like Myst have pushed creators to make better games that alter the gameplay as well as the graphics performance."
After a spirited debate, it was realized that while the games might have changed, one thing remains the same: We look at games in the perspective of the games we like to play.
Check out this Kickstarter project for Obduction - a new game from the creators of Myst.