Hi,
I thought as so many people experience such awful intern experiences of 'making tea' and running 
errands I would share with you a diary of my experience at Lulu Guinness.
I specifically applied to intern here as I think the brand is especially inspiring as Lulu started and made it in the industry with no design background. I have always been the biggest fan of her bags, with my favorite design being the lips clutches!
On my first day my emotions were a mixture of nerves and anticipation as i've never interned for a fashion designer before.  Regardless to this I was eager to get started and learn how a top fashion brand really works behind the scenes. My main role is to assist and help on the PR department however the whole UK Lulu Guinness team works within the same office so it's great to be able to get a feel for each stage the product goes through.  From designing the original template to sending out samples to celebrities it's exciting to see the bag go through each link of the chain to obtaining its success, and working within this office definitely allows that insight!
After I am introduced to the different teams, I was shown around to get a feel for the place I would be working in for the next 3 months. Daunting at first, but I was soon put at ease by the friendliness of everybody I was working with. I started with my first job of unpacking the brand new collection of stock just landed in the office and organising it in the press room; it was exciting to see the new Cruise 12 collection straight from manufacturing and I instantly had my favs! It's so dangerous for my bank balance working with such beautiful handbags!! After the bags all unpacked, unwrapped and put away I was shown a few things of which I will be in charge of keeping up to date during the course of the next few months. Here's a couple of my favorite bags from the new Cruise 2012 collection...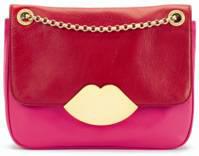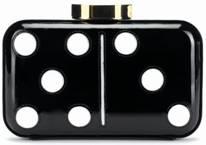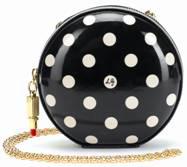 Obviously every job as an intern isn't fashionably glamorous, so as well as lusting over amazing bags, there are databases to fill out, forms to fill, and envelopes to seal. However the Lulu Guinness Cruise press preview was definitely something to look forward to. I started to save images into the archive of that week's celebrity's wearing Lulu Guinness which included Pixie Lott, Paloma Faith, and Jessie J.  Additionally to this, saving any press coverage worldwide that featured Lulu Guinness. I found that Lulu Guinness features regularly in publications including Vogue, Elle, Grazia, Cosmopolitan, and Tatler, not to mention countless online blogs and articles.
After saving that week's coverage, I was forwarded many emails to attend to. Those tasks ranged from booking a courier to send bags to Vogue for them to shoot in their October issue, to choosing some clutches suitable for an event Elle Macpherson is attending at the end of the year!  But first I had to find some requested bags in the press sample room, wrap them up and in Lulu tissue paper, find the address and write it on the bags and prepare it for the courier to take away. Another regular email to reply to is from editors of magazines requesting high resolution images, of which I search for the desired image, add any details, pricing and stock list information and send it to them to feature.
Having being looking forward to this day since I started interning with Lulu Guinness, Cruise 12 press launch had arrived. Set in the beautiful Penthouse Suite in The Soho Hotel, we headed over the day before to set up. The merchandising team shortly followed us to ensure all the bags looked as pretty as they should! Whoever said fashion was glamorous, try sliding inside a long dirty plastic stand cleaning with a duster and polish! We had countless boxes to unpack, stands to ensemble, and a hotel room to transform into a Lulu Guinness press display. I then made up the goody bags which will be given to press the next day. These consisted of a lookbook of the entire Cruise 12 bag, accessories and (newly added) watch collection. Additionally to this, it contained a gift of a very cute leather red telephone box phone holder.  All the hard work of the entire team paid off at the end of the day as the room looked amazing and fitted in perfectly with the Cruise collection, ready to show off to the press the next day. 
The press preview breakfast started at 8am and I was still half asleep, but a pastry and a strawberry smoothie later I was more than awake and awaited the first member of press. I was logged onto the Lulu Guinness Instagram account and was taking as many photos of the day as possible ready to share on social media, tweeting some of the best, giving the press a sneak preview of what they were about to see! The hype on twitter was starting to rise as the press got excited for the preview. Many member of the press started to arrive including the editors from Cosmopolitan mag, Good Housekeeping, and The Press Association. Lulu Guinness herself was at the press preview and answered some questions in a few interviews members of the press wanted to have with her. The morning draws to a close, and we pack everything back up and head back to the office. Here's a few of the photos from the day...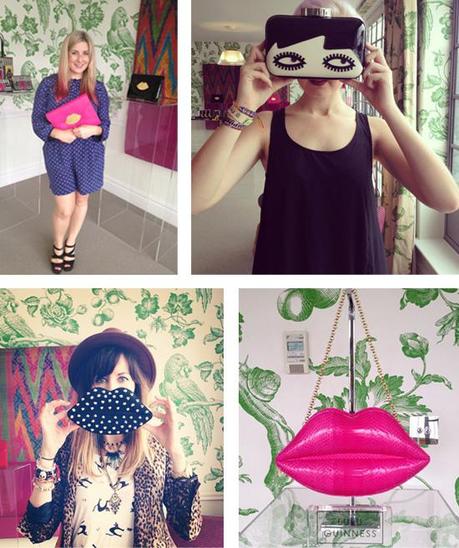 Some of the collection in The Soho Hotel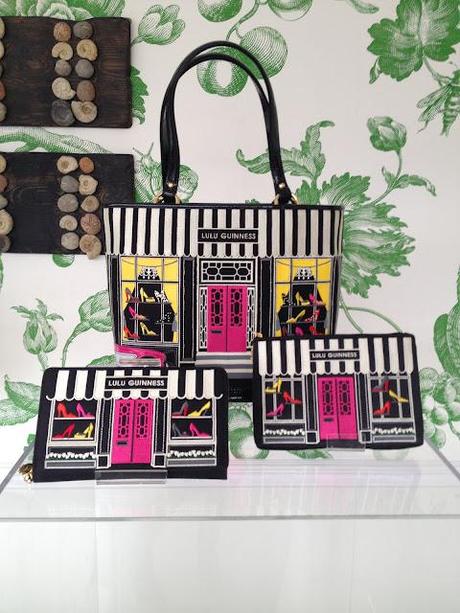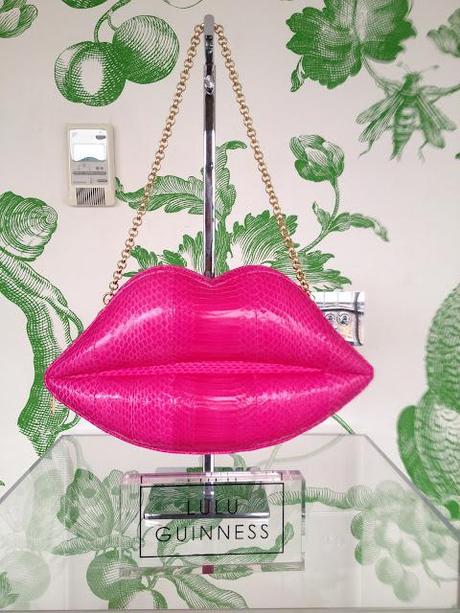 Posing with one of my favorite bags haha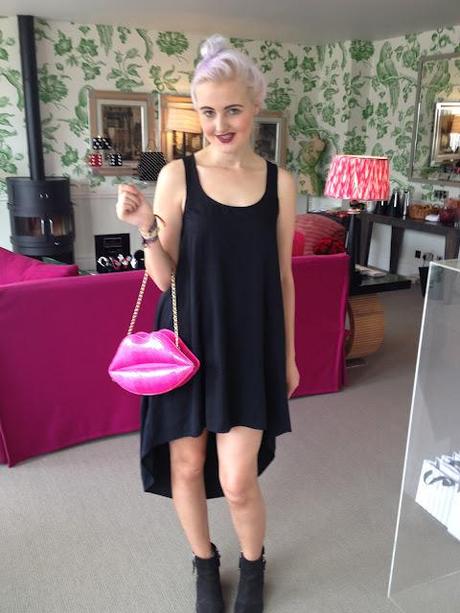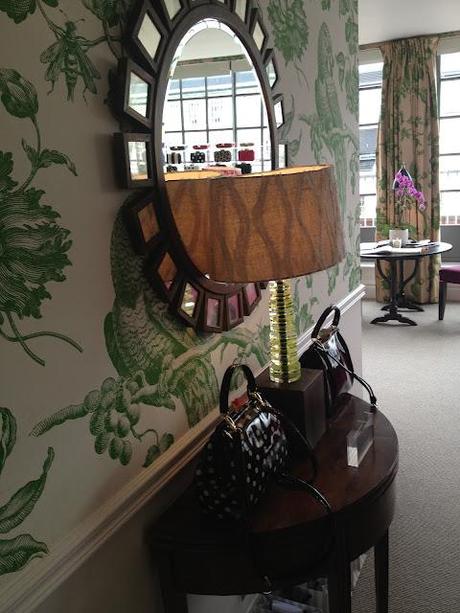 Me and Lulu!  :)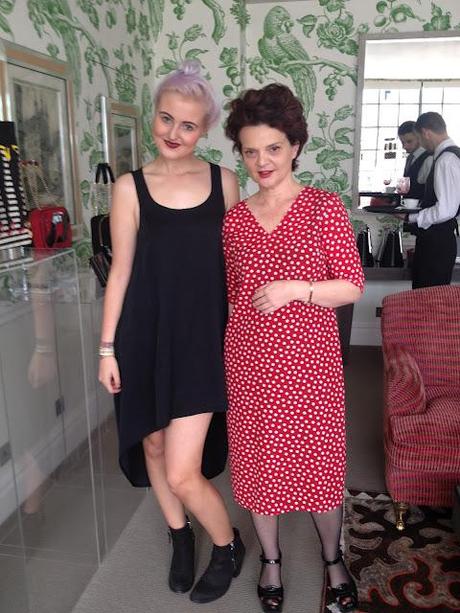 After 3 months of working within the PR team i've finished. The overall experience has been exciting, and very beneficial. I've learnt a great insight into how the PR department works, and have enjoyed working with a team of great people. I look forward to any new collections from Lulu Guinness!  
Have any of you had any good/bad intern experiences? I know I have a lot of friends at the moment interning at different places and I love hearing about them. I'm interning at Drapers next so will keep you posted how that goes!
Stay Cute,
Jessie xoxo