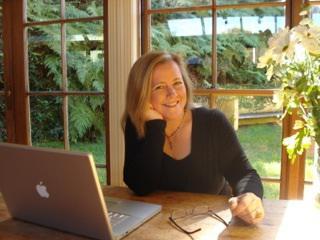 Dianne Blacklock
is the author of eight books, Call Waiting, Wife for Hire, Almost Perfect, False Advertising, Crossing Paths, Three's a Crowd, The Right Time, and The Secret Ingredient.

What authors/books did you read as a child? When did you first discover your love of books?

I read everything I could get my hands on.

Seven little Australians

was an early favourite; all and anything by Enid Blyton – adored

The Famous Five

and

The Secret Seven

. Then there were the usual suspects -

Milly Molly Mandy, Pippi Longstocking, Little Women, Heidi, Alice in Wonderland, The Wind in the Willows, Winne the Pooh

... you name it, I read it.

I can't remember when I started to love books, because I just always did. I was constantly getting into trouble for reading by the light from the hall outside my bedroom, well after I was supposed to be asleep!
When did you first realize you were a writer? What do you hope your readers will take away with them from reading your books?

I have always written stories, it was just part of me. I was a bit naughty at school – mainly talkative, it wouldn't be remarkable these days in the more relaxed classrooms – however, I did well at school mostly because I could write. My stories were frequently read out at assemblies, won awards, that kind of thing. As I grew older I still loved to write all the
time, I could make sense of what was going on in my head by putting it down on paper. But I was from a working class family, the fifth of six kids, it didn't even occur to me to be a writer or to pursue writing in any serious way. So it wasn't until I was in my late twenties, when a friend suggested we do some writing together, that I really threw myself into it. But I didn't believe I was an actual writer until I got the nod from a publisher.

I hope my readers are entertained, and perhaps find something to relate to in my books, that may even help them feel okay about their situation in life.
Do you find it difficult to read purely for pleasure? Does everything you read come under your 'writer' microscope?

I can read purely for pleasure, but only outside my 'genre'. Stories don't always
conform to labels, and I am drawn to strong domestic narratives, but I read commercial women's fiction sparingly. I either worry that I'll inadvertently 'steal' ideas, or I get worried if I read an idea or a storyline that's similar to something I'm working on. Or I get intimidated by how good the writer is!
Do you have to avoid reading certain types of fiction while writing your own? Does what you read while writing have an effect on what you write? In what way?

I find it difficult to read fiction at all when I am deeply immersed writing my novels, especially in the end stages. I'm not someone who can pick up a book and read it for 10 minutes. I stay up half the night … just one more chapter, oh, what the heck, just another chapter ... so I find it very difficult to have two fictional worlds competing in my head. I do keep reading during the earlier stages, but it often tampers with my voice. I was reading John Irving a couple of books ago, and found I was writing with the intricate, every day detail you find in a lot of American novels – which I love. It's about finding the balance between being inspired, and just plain mimicking.
Name five authors or books that have influenced or inspired your own writing in some way?

Charles Dickens, Jane Austen, Jonathan Franzen, Michael Cunningham (specifically

The Hours

). Lastly, not really an author, but the screenwriter, Aaron Sorkin. I am such a huge fan of his writing; I have watched his films and TV series over and over, hoping to absorb some of his brilliance! I've even downloaded a few of his scripts to try to work out how he does it. I know he has influenced my dialog especially.
If you were traveling and were told you could only take one book with you, what book would it be and why?

Oh my goodness! That's a hard one. Maybe it would have to be a book I haven't read yet … whatever has been recommended to me at the time, something on my 'must read' list. Last year it would have
been

Freedom

by Jonathan Franzen. Or else, I might bring a classic I've never got around to reading (or finishing), because it's been a bit daunting –

Middlemarch

, or maybe

Anna Karenina

. With nothing else to read, it might force me to stick with it!
What makes a book 'too good to put down'?

The characters. While an intriguing hook might get you in, if you don't engage with the characters on some level, then it's difficult to stay with them for the rest of the journey.
What makes you put down a book without finishing it?

Following on from the previous question, if I'm not engaged with the characters, especially the protagonist.
For this reason I have struggled to continue

A Confederancy of Dunces

, because I find it difficult to relate to Ignatius J. Reilly. The same goes for Quoyle in

The Shipping News

.

I gave up on a popular fiction book recently because it was written from too many perspectives. More than a third of the way in, I turned the page and another chapter began from yet another character's perspective. I didn't care enough about any of the characters at that point, let alone to have to take on another.
Do you have a favorite author? Who is it and what is it about their writing that draws you to them?

I can't place Dickens over Austen; I am drawn to them both because of their skill in characterisation, their innate understanding of the human condition, their extraordinary command of the language, and their wonderful sense of humor. Even though their books were written in another century, about things that are out of my immediate experience, I can still relate.
If you had to list them, what would be your 'top ten' reads of all time (excluding the classics) and why?

No classics! So I'm not allowed to include

Great Expectations, Pride and Prejudice

or

To Kill a Mockingbird

? Oh well, I'll try ...



The Hours

by Michael Cunningham – I kept reading over paragraphs in awe of the language, the way he expresses emotions. And the way he gets into women's heads is stunning.
Revolutionary Road

by Richard Yates – This novel was published in the year I was born, yet it has such an incredibly 'modern' perspective, and touched me deeply.
Wonder Boys

by Michael Chabon – A little crazy, but so endearing.
The Corrections

by Jonathan Franzen – Again, it's the characters! Such a cast, and there is a turn of phrase or an observation on every page that surprises.
Lolita

by Vladimir Nabokov – How is he able to make you have sympathy for a pedophile?
The Road

by Cormac McCarthy – A book I shouldn't have had any interest in, that kept me rivetted. Achingly beautiful.
The Poisonwood Bible

by Barbara Kingsolver, for the way she was able to write from such different characters' perspectives, about the Congo in the 60s. Just extraordinary.
Wild Swans

by Jung Chan – I knew so little about modern Chinese history; a compelling, sweeping novel.
My Crowded Solitude

by Jack McLaren – I read this at school and the images have stayed with me ever since. Apparently it's not very PC any more, but it was of its time.
The Lord of the Rings

by JRR Tolkein – This might count as a 'classic', but I'm including it anyway. It was a momentous book to read in my teens, and has stayed with me always. I was in love with Aragorn long before Viggo Mortenson played him in the film!
What was your 2010 'best read'? What was it that made it number one?



Freedom

by Jonathan Franzen. I simply love the way Franzen writes, and paints even unlikeable characters with such insight and intricacy and truth, that you find their humanity.
What do you think of the non-traditional publishing methods – eBooks etc? Do you think the new technology will encourage more people to read? Do you think there's a future for print books?

I think eBooks will encourage another generation to keep reading into their adulthood. I think they may even be our best chance of ensuring this. Recently my teenage son discovered his favorite band had
released a new album, so he immediately went on iTunes and bought it, and was playing it within minutes of first hearing of its existence. I thought he'd want to have the physical CD of a band he loved so much. But that didn't even occur to him – the music was what he wanted.

I think we have to get over mourning the death of paper books, the smell, the feel, the object. I love my books, and I am from a generation that will probably always want to own a physical version of their favorite books. But I don't think the generations after me are going to care as much. So if writers can
provide their books in a format that people want to read, then all the better. I don't see a time when print books won't be available – not everyone will want to shell out for an eReader, no matter how inexpensive and ubiquitous they become. And maybe there will be smaller print runs, particularly of commercial fiction. We still have newspapers – thinned out, for sure, but they still exist; we still have Post offices, and cash, despite all the predictions of their demise.

The greatest thrill for me as a writer has always been – not holding the finished book in my hands, as people assume, but hearing from readers once they've read it. It's the story that matters, content is King, however it happens to be delivered.
Dianne has been a teacher, trainer, counsellor, check-out chick, and even one of those annoying market researchers you avoid in shopping centres. Nowadays she tries not to annoy anyone by staying home and writing.
Find out more about Dianne here.