On March 6, FOTM published a post asking why Obama's Department of Homeland Security (DHS), in addition to acquiring billions of bullets (including lethal hollow-point bullets), reportedly acquired from the U.S. Military perhaps 2,717 MRAP (MaxxPro Mine Resistant Ambush Protected) heavily armored vehicles manufactured by Navistar Defense.
DHS's alleged purchase of these behemoth vehicles is denied by the magazine, Homeland Security Today.
Published by KMD Media LLC, Homeland Security Today calls itself "the leading source for independent news and analysis on homeland security affairs" which provides "Insight & Analysis for Government Decisionmakers." HS is "sponsored" by General Dynamics.
Below is that denial, in its entirety.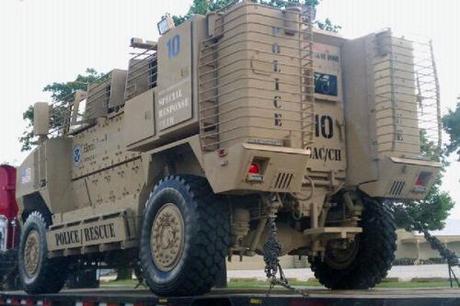 MRAP
Claim DHS Putting Thousands of Armored Personnel Vehicles on Streets Not True, Dept. Says
By: Anthony Kimery – HS (Homeland Security) Today – 03/06/2013
For weeks, the blogosphere and conspiracy websites have been abuzz over an unconfirmed blog that claimed the Department of Homeland Security (DHS) is fielding several thousand Mine Resistant Ambush Protected (MRAP) vehicles it obtained from the Department of Defense.
Most blogs that have repeated the claim say DHS recently retrofitted 2,717 MRAPs that it obtained from the Pentagon, and that these military vehicles that were used in Iraq and Afghanistan are being put in "service on the streets of the United States" in preparation for some sort of civil insurrection or crisis that would require the imposition of martial law.
Bloggers have questioned why DHS would need such a vehicle to begin with, asking, "what is DHS expecting or preparing for." The original unconfirmed and unsourced claim spread like wildfire and has prompted flurries of bizarre comments on bloggers' websites. "I work where MRAPS are built. They are being refit for reuse alright, but it ain't for use in Afghanistan or Iraq … The overwhelming evidence is enough … These 2,717 MRAPs will be used to enforce martial law," one read.
That's one of the milder of the paranoid comments that have been made in response to the numerous iterations of the story that have spread through the blogosphere and fueled its perpetuation.
By and large, most versions of the story trace DHS's alleged purchase of used military MRAPs to a year-old press release from Navistar Defense, LLC in which the company announced a DoD retrofit contract for its MaxxPro MRAP vehicles already in military service.
But that announcement from Navistar was about its $21 million contract from the US Army Contracting Command for installation work associated with its January, 2012 order to upgrade 2,717 International MaxxPro MRAPs with a new vehicle chassis.
The press release said nothing about DHS receiving any of the MRAPs.
Immigrations and Customs Enforcement (ICE) and Customs and Border Protection (CBP) did acquire MRAP-type vehicles from DoD four years ago, but the number the Pentagon provided these DHS agencies wasn't anywhere near 2,717.
"ICE's Homeland Security Investigations (HSI) currently utilizes 16 mine-resistant ambush protected vehicles nationwide in the course of criminal investigations. These MRAPs, obtained in 2008, are used by HSI special agents under hazardous conditions, such as the execution of criminal search or arrest warrants for known drug trafficking organizations," ICE spokesperson, Ross Feinstein, told Homeland Security Today. "Additionally," Feinstein said, "US Customs and Border Protection utilizes 16 MRAPs in border operations."
All 32 MRAPs "operated by HSI and CBP were provided free of charge from the Department of Defense" in 2008, Feinstein said.
"[I'm] not sure what we would even do with 2,700 MRAPs; we don't even use the [ones] we currently have every day," a DHS offical said on background.
HSI conducts criminal investigations against terrorist and other criminal organizations who threaten national security, as well as worldwide criminal enterprises who seek to exploit America's legitimate trade, travel and financial systems. HSI also enforces America's customs and immigration laws at and beyond the nation's borders.
HSI Special Response Teams (SRT) use MRAPs for high risk counter-criminal operations.
But they also use their MRAPs during emergencies. In the aftermath of Hurricane Sandy, HSI New York's SRT utilized its MRAP to pull destroyed government vehicles onto the street so they could be towed out of the area, and assisted CBP in transporting generators and other supplies.
When Hurricane Isaac caused flooding along the Gulf Coast in Sept., ICE HSI New Orleans used their MRAP to assist St.Tammany Parish Sheriff's Office and the Louisiana State Police rescue 12 individuals who could not evacuate their homes.
As for "The purchase of nearly 3,000 MRAPs referenced in recent blog posts [that DHS allegedly received from the military], they refer to acquisitions made by the US Marine Corps," a DHS official told Homeland Security Today on background.
The Pentagon's $47.7 billion MRAP procurement program officially ended in Oct. when the MRAP Joint Program Office was transitioned from the Marine Corps to the Army, and an MRAP Program of Record was established within each of the services and the Special Operations Command. Most MRAP fleets will be put into storage or sold to the militaries of allied nations.
The Marine Corps Systems Command at Quantico, Va. bought 2,225 Navistar MRAPs pursuant to 2008 requests from the US Army and additional contracts that were awarded in 2010 and 2011.
The Army and Marine Corps also have awarded contracts to protect their existing MRAP fleets. For example, the Marine Corps' corrosion prevention and control office last Oct. awarded a $4.5 million contract to Transhield for 3,700 covers to protect its MRAPs from UV damage and corrosion.
In Aug. 2010, the Marine Corps announced that they were awarding a Force Protection contract to upgrade over two thousand MRAP vehicles previously purchased.
As for DHS, "DHS has no plans for future MRAP purchases … We have no plans to procure more MRAPs!" Feinstein emphasized.
An examination of DHS contracts for the past year show no purchases of MRAPs, nor do they show any Requests for Proposals indicating the department has plans to purchase large numbers of MRAPs.
[End of HS Today article]
In other words, what HS Today is saying is DHS has, at most, 32 MRAP armored vehicles, instead of the rumored 2,717. (Both ICE and CBP are agencies under DHS.)
Gosh, I sure feel better now. [Snark]
Here's a guy from DHS showing a DHS-owned armored vehicle deployed in New Mexico, beg. at 2:40 mark:
H/t FOTM's Steve
~Eowyn