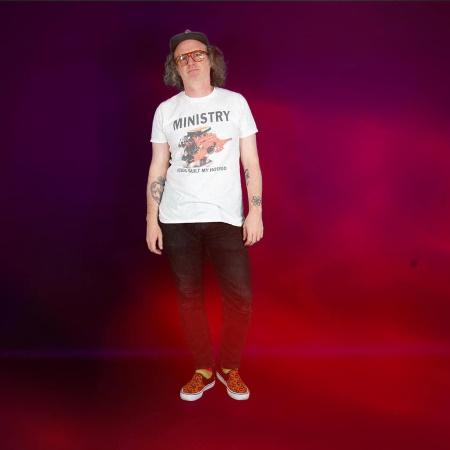 Darren Smallman plays up a storm with his one-man garage-punk band Dez Dare on his new album Ulysses Trash, a collection of gnarly fuzz-heavy songs, combining the Stooges with Ministry and the Jefferson Airplane in a foul mood. He is a veteran of the Australian noise scene, now based in Brighton, where he is waking up the neighbours with monolithic riffs, and fighting off his demons with his guitar and singing his heart out.
Anger issues are clashing with pet peeves like annoying hand shakes (Tyrannosaurus Shake) and nauseousness, inspired - well, sort of - by the adventures of Greek hero Ulysses. He had to sail the seas for a decade (Bloody Sea, Holy Fuck) after the Trojan war. Dealing with all kinds of shit along the way he finally made it home, as does Dare who used the tale as launch pad for rants at the powers that be. Shouting at the heavens is part of the human condition (Outrage, Metrics, Mechanics, Death) and so is resorting to violence when there is no answer (Trashin', Rampage-on-Hi).
Having an axe to grind (yes, put intended, look it up), he recorded this ear-bleeding sonic assault at home, with all the meters in the red. Play it loud, so that the wallpaper becomes as unglued as this music is. Recommended if you like Dogzen Zendog on speed.

Ulysses Trash is a self-released album. Buy it from his website.
Tracks:
They Scream, My Head is so Full I Can't Dream
Tyrannosaurus Shake
Bloody Sea, Holy Fuck
Ulysses 195
(Sweet) Exhaustion
1.9.8.5.
Trashin'
Claws
Outrage, Metrics, Mechanics, Death
Deciphering Momentum
Pomp
Quanta-fied
Rampage-on-Hi