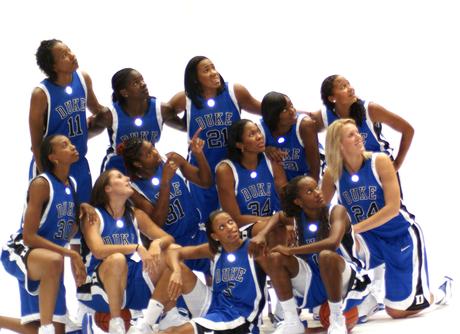 Chicks support other chicks.  Or they should.  And since I need something to fill the void of Nolan Smith, the Duke women's basketball team seems like the best distraction.  Women's basketball may not be as exciting – the game is slower and the overall talent is weaker – but the Lady Blue Devils (I have always hated putting "lady" in front of anything) are due to make some waves.  Over the past decade, the Duke women's basketball has won six ACC championships, reached four Final Fours, and achieved eight 30-win seasons.  They have had a dominant program for years, but have yet to bring home a championship.  Maybe this is the year.  With Maya Moore and UConn on our side of the bracket, it will take nearly a miracle; it is hard to erase the memory of Connecticut's 87-51 annihilation of Duke on January 31st. As Georgetown demonstrated today, however, UConn will struggle when Moore is forced to take bad shots. It seems like anything is possible this March.
Today, the Blue Devils (31-3) are up against DePaul (29-6). DePaul's mascot is the Blue Demon, the ugly and sinister step-sibling of the prestigious Blue Devil.  This is the best team that DePaul has ever fielded, setting the school record for wins.  The Blue Demons, led by standout junior forward Keisha Hampton and senior point guard Sam Quigley, play fast and loose, but I think that will work in Duke's favor today.  The Blue Devils play tight defense and force a ridiculous amount of turnovers; they only allow opponents to score an average of 54.8 points per game. Duke frosh Chelsea Gray has been incredible this tournament. Along with star Jasmine Thomas, she has added an understated spark to the team. Duke's size and defense will be the keys to the game – they will extend the defense, allowing their tall guards to deflect balls and wreak havoc on passing lanes.  While Duke lost to Connecticut by 36, DePaul only lost by 33 – 89-86 on February 5, 2011 – so take that as a sign that this will be a good game.  As long as we start strong and force turnovers, we should win. And I really want at least one Duke team left to support in March Madness.   So let's go, Devils!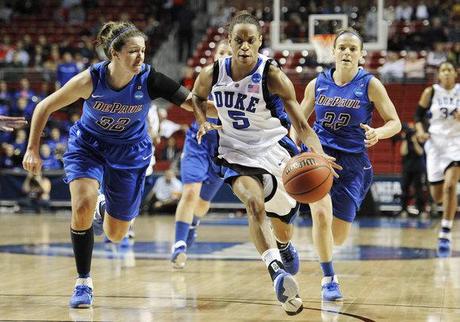 First Half: Across the Blue Devil mascot's forehead is a message that says "Demons work 4 me," which is hilarious. We should get a two-basket bonus for our wit and snark.  A warning: since I do not know as much about women's basketball, and therefore cannot offer factual color commentary, I am just going to make it up as I go along. This will be fun for everyone, I promise. Like Madlibs. 
19:59: We are underway in…wherever they are playing, let's go with Mexico City.  (Philadelphia).  Duke wins the tip. Chelsea Gray starts things off by driving – if you can call it that, it was more like barreling uncontrollably towards the basket – and getting fouled.  She hits both. Duke is challenging DePaul's guards, making it very hard for them to force any good entry passes.  But from underneath the basket, they inbounds for an easy bucket.  Duke misses and DePaul follows with a three. 5-3, Demons. 
18:05: It is sad when the camera scans the crowd.  And by crowd, I mean about 26 people.  Watching women's basketball always makes me wish I played in college. Some tall scary looking chick just hit a long two for DePaul. But Karima Christmas gets an offensive board on the other end and puts it in.  Rebounding is going to be a huge factor for Duke. And I think Karima Christmas would make an awesome porn name. Think of the marketing opportunities. "Christmas doesn't just come once this year…;" "Santa yells ho, ho, ho to Christmas;" "The best box you can fill this Christmas." I will stop. You're welcome.  9-6, Demons.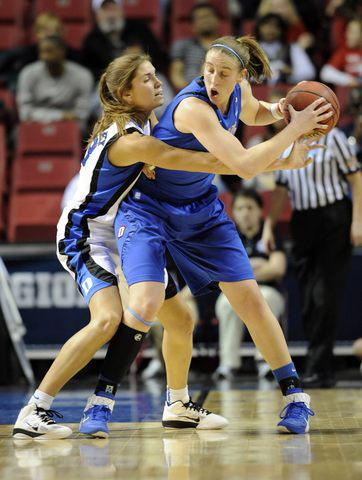 15:50: Demons are really trying to push the tempo, but Duke is hanging around just fine.  They need some stops. Chelsea Gray drives and gets a sweet layup, changing directions in the air.  Then Christmas gets a steal and another easy basket – and the foul! Chance for a three point play when we get back from the TV timeout.  12-11, Devils. 
14:32: Coach McCallie has her team all fired up, telling ESPN that "We are obviously not considered a top team, a top story, a top anything. So we have a chip on our shoulders." They are apparently ticked that they are considered the worst #2 seed; they did not want to be stuck with UConn and did not think that they deserved to be.  Well, good for them. But DePaul drains a three. They are sort of on fire from the field so far. But Duke gets an easy bucket underneath; we need more of that.  Traveling on DePaul.  Then Jasmine Thomas hits a three, nothing but net.  17-14 Devils. 
12:43: Another offensive foul on DePaul by some girl with a headband thingy. She looks sad. I don't know if it is because of the headband or the offensive foul, but either way, its an unfortunate moment for her.  Duke is using the dribble-drive to dominate on the offensive end, penetrating the zone with ease.  19-14, Devils.
11:43: After a turnover, the lady announcer is rambling about how Karima Christmas does not "have a tight handle" and has trouble "squeezing sometimes." This is an extremely dirty conversation to be having on air.  So far, Duke has held Hampton to zero points, which is impressive. DePaul can't win without her.  And as soon as I say that, she hits a three. Why the hell does that always happen to me?! And you wonder why I have such irrational sports superstitions.  23-17 Duke.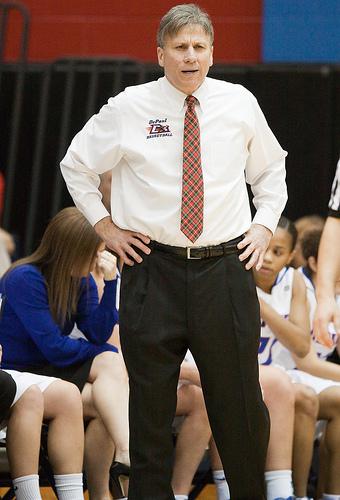 10:01: The DePaul coach Doug Bruno is wearing a heinous collared shirt with his team logo on it.  It looks like a free giveaway that he may have received at a PTA meeting. Oh, he is very angry about something in his ugly shirt.  The shot clock.  The officials do not care.  Some stuff happens and then Duke commits an offensive foul.  DePaul hits a three, which is the only thing keeping them in this game right now.  Duke then turns the ball over, leading into the TV timeout.  27-22, Duke.
7:31: Duke steal! And then they turn it back over.  But DePaul launches an airball that was approximately three feet short of the rim.  People wonder why women's basketball is not more popular.  The Devils get an easy bucket and then the Demons try to push the tempo, but miss a layup.  Christmas gets fouled going to the basket by Sarah McBabar. Not really, I just made that name up.  I always like the elephant story though.  30-24 Duke.
5:04: A lot of misses, a lot of running around, a lot of trying to make an entry pass…finally! Jasmine Thomas hits a jumper.  She is a fierce clapper and I can only imagine that her palms must be throbbing right now.  Another TV timeout.  I am not kidding when I say that absolutely nothing has happened since the last timeout.  Seriously One basket.  In four minutes. 32-24 Duke. 
3:28: Duke steals the inbounds, passes ahead for a breakaway layup. First double-digit lead.  Now they are pressing, and an offensive foul is called! Some huge Demon chick elbowed Jasmine Thomas right in the face. Ohhhh and now the refs are reviewing it to see if it should be called an intentional foul – and IT IS.  It is a hard-line rule.  Contact above the shoulder is an automatic intentional foul. Duke gets the free throws and the ball.  36-24, Duke. 
2:35: Christmas is fouled while driving. It looked like she tried to body check the Demon defender, but whatever, I'll take it. She hits one of two. The Demons have a wide open three, but they miss. Scramble on the floor, and Duke grabs the ball, wisely calling timeout.  That was a great hustle play all around.  37-24, Duke.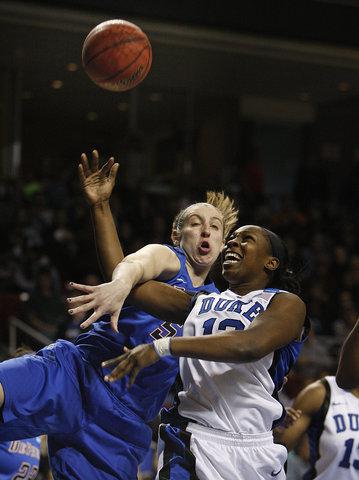 1:36: When was the last time that DePaul scored? It seems like forever. Who cares? They foul Christmas, who is at the line for one-and-one. She hits the first. She is #13, and I really wish she was #25.  It would have meant a lot to Santa.  Duke is up by 15.  Whoa! Thomas swats away what looked like an easy lay-up.  But they wind up getting the points anyway. Chelsea Gray hits a sweet jumper to get it right back.  41-28, Duke at the half.
Half-time:  Duke has a nice lead, but I don't count the Demons out yet – they trailed Penn State by 14 at the half during the second round and obviously came back to win. So it will really depend how Duke opens and closes the second half. 
19:54: Both teams start the half with lay-ups.  I am sort of going through a brief period of depression, where it has hit me that I am live-blogging the Duke women and not the Duke men, especially when VCU is in a heated battle with Kansas right now.  The tourney is wide open and I really wish we were still playing in it.  But yaaaaay women's side! This is just as good, screams the 16 fans still left in the arena.  43-30, Duke. 
18:30: Hampton drains a long, huge three for the Demons.  They needed that. And we need to make sure that bitch doesn't get hot. We have sort of gone cold, which obviously makes this even more fun to watch.  OMG a man just streaked across the court right by the ref's table!!!! No, that did not happen. I was trying to spice this up.  Duke cannot let the Demons creep back into this, as they often let happen. That would be super lame. Duke takes about four shots, gets four offensive rebounds, and misses everything.  Eventually DePaul hits an easy two after Duke tried an unsuccessful double-team.  TV timeout.  43-36, Duke. 
15:20: Duke throws away the ball, their third since half-time.  I am pretty sure that the announcer just quoted Katy Perry's "Firework," but I am going to pretend that it did not happen.  Keisha Hampton is wearing a, like, wide satin headband. I do not understand all of these headbands. I think some of my friends, like Carrie for example, may support this whole headband trend, but I cannot get behind fashion accessories in sports. I am sorry. It is like when girls wear their hair down while playing– it is just WRONG. 43-36, Duke.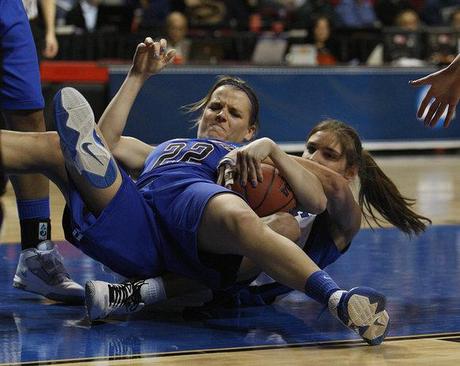 13:52: OH MY GOD. Can someone, anyone score? There is just turnover after turnover for both teams. This is the sloppiest basketball I have ever forced myself to watch.  Duke needs to get their shit together.  I like Coach McCallie, she is a sass monster on the sidelines.  Duke has five fouls to DePaul's one – what the hell is that? Everyone keeps missing, but DePaul finally drains a long three.  When I asked if "anyone" could score, I was really hoping for it to be Duke. The Devils are only up by four.  43-39 Duke. 
12:22: Christmas drives and gets fouled.  Hitting both and giving Duke some much needed points.  Then an offensive foul on Hampton. WOW. Her fourth!!!!! With over 12 minutes left. That is HUGE for Duke. Like, it could be the whole game. She has to sit on the bench – for how long, we shall see.  They are showing the DePaul band and one flute player has sunglasses on, but no one else does.  She is either blind or stupid, it is an unfortunate mystery that will remain unsolved.  TV timeout.  45-39, Duke. 
11:30: Duke has a nice dish and easy score.  And then a tie-up near half-court. DePaul really can't afford turnovers at this point, especially with Hampton on the bench.  We need to kill some clock with her out and push the score.  I still don't trust that Duke won't wet the bed at some point. They are like the Knicks in the fourth quarter. But they have a nice, easy transition layup. Timeout DePaul as Duke pushes the lead to 10. Christmas has 20 points now, Hampton is still on the bench.  The announcer says that you have to come back with her after the under-eight timeout. I absolutely agree. If you are DePaul, you cannot let Duke rebuild a 15-point lead and not give yourself any time to chip away at it. TV timeout, 53-44 Duke.
7:50: Duke steals the ball, a pretty defensive play in the corner.  They are walking the ball up slowly. I like killing the clock, but they have to remain aggressive as well. Chelsea Gray drives and scores, pushing the lead back to 11.  Hampton is back in the game now.  Her wide satin headband is killing me. She is fouled and knocks down both shots.  Oh wow. She just picked up her fifth foul on a stupid play.  She is done-zo. And it is hard to think that DePaul can eke this out without her.  55-46, Duke.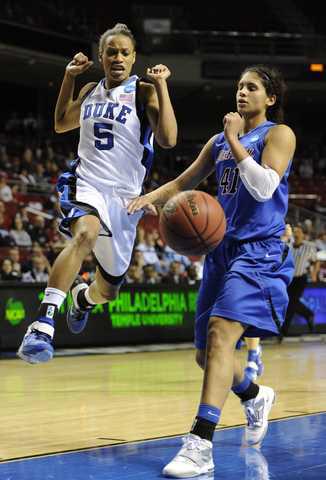 5:35: Duke rebounds a DePaul miss, but the ball is poked away and the Demons get the ball back. And then we foul them. Dumb play, Devils.  They are letting DePaul hang around when they should be slamming the door in their faces.  The teams have now thrown the ball back and forth to each other on three consecutive plays.  This is ridiculous. Turnover after turnover without getting near the basket. DePaul is pressing, but Duke breaks it easily. Geno is speaking to the horrendo announcers and he is complimenting Duke on our depth.  Last official TV timeout. 57-49 Duke. 
3:06: Krystal Thomas is at the line for Duke. She shoots an epic 55% from the free throw line.  And, on cue, misses the first one.  She has yet to score today. And continues that by missing the second.  Duke then commits a foul, which was super bone-headed. The last thing we need to do is stop the clock for them and give them free points.  They hit both, then on the inbounds, the Demons trap Duke in the corner forcing a turnover. This is lame, ladies.  Then we commit ANOTHER foul.  WTF. We are starting to come apart.  This is what happened versus Baylor last year.  The lead is now only four. 57-53, Duke.
2:54: Duke is now in a 1-3-1, which is interesting.  A new look, but it doesn't work.  DePaul buries a jumper.  Gray takes the ball up. Duke has scored a field goal in over five minutes.  But Gray drives and scores, which was much-needed.  She plays a lot older than a freshman.  We need to close this out. 63-57, Duke.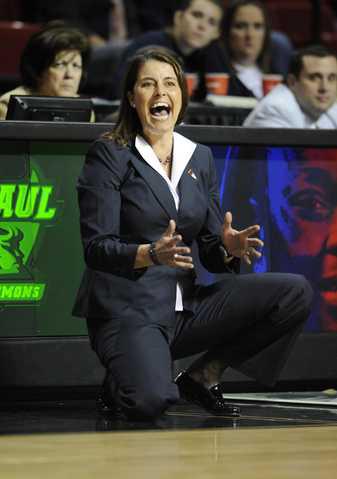 1:05: Duke inbounds to Christmas, but the ball won't roll in the basket. Holy shit, DePaul drains a three, making this a one-possession game. There is no excuse for this, especially with Hampton out. What the hell. WHAT THE HELL. Duke is fouled and we knock down both shots.  DePaul misses a wide open layup, like wide-open, no one around her. She just bricks it short. Duke should never have let that happen and is beyond lucky that the Demon player sucks.  66-60, Duke.
24 seconds: Jesus, they will just not go away. DePaul drains another three, cutting the lead to only three with less than a minute left.  Duke inbounds and Chelsea Gray is immediately fouled.  She hits both, which was big.  Then, DePaul turns it over.  They foul Chelsea Gray again.  This looks over, folks.  She hits both shots, pushing the lead to seven with 16 seconds left.  Huge block by Krystal Thomas at the three-point line.  DePaul misses again….and that is it! Christmas had 23 and Gray had 16.  Duke wins, 70-63.
A date in the Elite Eight awaits! With Connecticut, but let's not think about that…yet. For now, the Blue Devils continue to dance!