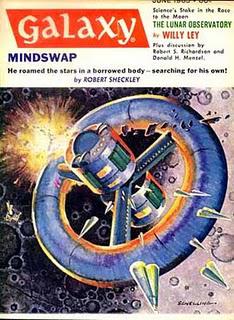 In 1965, Galaxy was under the editorship of Frederik Pohl.  Pohl would be remembered as one of the best magazine editors of all time.  At this time, Roger Zelazny did not get his name on the cover.  He was just starting to become a great writer.  Other Zelazny stories that appeared in 1965 were classics such as "The Doors of His Face, the Lamps of His Mouth", "He Who Shapes", "And Call Me Conrad", and "The Furies".  This was the beginning of the best years of Zelazny's short fiction writing career.
"Devil Car" was the first in what ended up being a two story series.  Sam Murdock lives in a future America where true "smart" cars are common.  Unfortunately for the humans, some of the cars rebel and are fighting for their freedom.  Wild bands of cars raid fuel depots and attack defenseless cars on the roads.  Devil Car is the leader of a rebel group that lives in the desert.  It killed Sam's brother so he had a death car built to destroy it.  Now Sam and the death car (named Jenny) are on the hunt to track down Devil Car and take revenge on it.  But no one knows why cars go wild.  Will Devil Car be able to lure Jenny into joining his group?  Or will she stay loyal to Sam and kill Devil Car?
It is a touching story about a man and his car.  This is a theme that is one of Zelazny's favorites.  He would return to "man and vehicle" stories in the future.  One of the best know is his novel "Roadmarks".
Highly recommended.  "Devil Car" is part of the group of very good short stories by Zelazny.  While not as memorable as some of the others, it is very good.