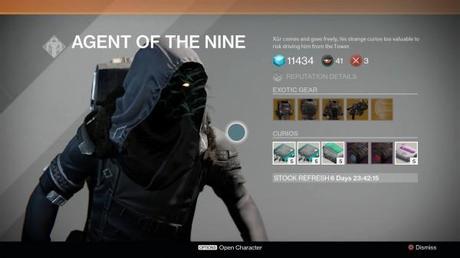 Xur: Agent of the Nine is back again in the Tower. Head inside to find out where he's located this weekend and what you can buy from him.
This weekend, Xur can be found in the Hall of Guardians again, next to the Crucible Quartermaster. You have until 2AM PDT on Sunday November 2 to do business with him.
Seeing as it's
Halloween
and all, if you talk to Xur while wearing the
Jackolyte
, you will see another item added that can be yours for 1SC, Flight of Shadows. A consumable that "changes the appearance of your respawn for 24 hours."
And here's what you can buy this weekend.
The Armamentarium [Exotic Titan chest armour] – 13SC
Lucky Raspberry [Exotic Hunter chest armour] – 13SC
Voidfang Vestments [Exotic Warlock chest armour] – 13SC
Patience and Time [Exotic sniper rifle] – 17SC
Exotic Engram [helmet] – 23MoL