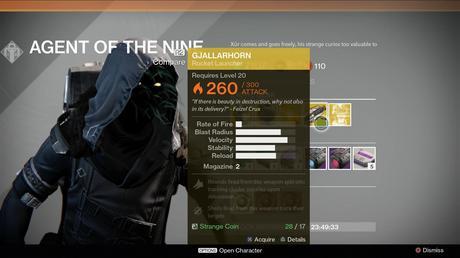 Welp, Xur is back in the tower this week, and he brings some cool new exotic weapons and armor for you to spend your hard earned Strange Coins on.
Xur is a merchant that comes to The Tower only on the weekends. You can only use Strange Coins and sometimes Motes of Light to buy from him. He usually sells exotic items that are incredibly rare to come-by through regular progression.
For this weekend; Friday 17 to Sunday 19, Xur can be found in the Tower Hanger. You have until until 2AM PDT on Sunday to talk to him.
Take a right as you spawn, go to Tower Hanger (the place where ship parts and Vanguard weapons are sold) take a right as soon as soon as you descend the small flight of stairs and there you'll find him, standing by the edge.
As for his inventory, here's what you can expect.
The Armamentarium [exotic Titan chest armour] – 13SC
Achlyophage Symbiote [exotic Hunter helmet] – 13SC
Light Beyond Nemesis [exotic Warlock helmet] – 13SC
Truth [exotic rocket launcher] – 17SC
Exotic Engram – 23MoL