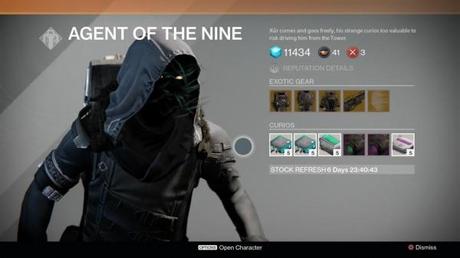 Xur: Agent of the Nine has graced Destiny's Tower with his presence once again and I've got a list of his items for sale.
Xur is back for another week of trading in The Tower. Ready your Strange Coins and Motes of Light.
This weekend, Xur can be found across the hall from The Speaker, in Tower North. He will remain there until 2AM PDT on Sunday, November 16.
As for the available goods, check out the list below:
The Armamentarium [Exotic Titan chest armour] – 13SC
Crest of Alpha Lupi [Exotic Hunter chest armour] – 13SC
Voidfang Vestments [Exotic Warlock chest armour] – 13SC
The Last Word [Exotic handcannon] – 23SC
Exotic Engram [helmet] – 23MoL