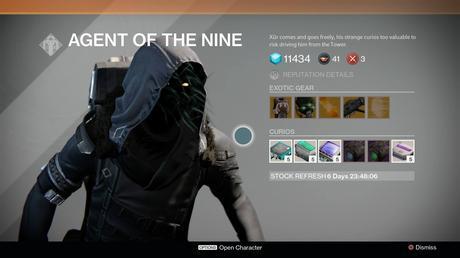 Xur has returned to the Tower in Destiny as have the weekly inventory of excitement.
If you bring enough Strange Coins, Xur will be happy to sell you Exotic armor pieces and weapons. He also offers better versions of some Exotics each week.
Head over to the big door near the Speaker if you want to catch him. Get everything you need before he departs at 9am GMT on Sunday, May 10.
This is what you can get:
Ruin Wings [Exotic Titan gauntlets] – 13SC
ATS/8 ARACHNID [Exotic Hunter helmet] – 13SC
Obsidian Mind [Exotic Warlock helmet] – 13SC
Thunderlord [Exotic machine gun] – 17SC
Exotic Shard – 7SC
Exotic Engram [helmet] – 23 Motes of Light
For your upgrades, you have:
ARMOUR – Mask of the Third Man, Lucky Raspberry, An Insurmountable Skullfort, Crest of Alpha Lupi, Skull of Dire Ahamkara, Apotheosis Veil 
WEAPONS – Bad Juju, Thorn, Plan C, Ice Breaker, Gjallarhorn, Truth