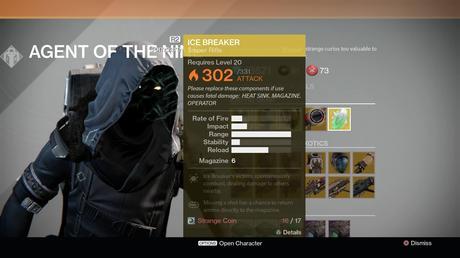 Xur: Agent of the Nine's weekly journey to Destiny's Tower has begun.
Xur has reached his weekly destination and brought the usual assortment of goodies for you to scoff at, or possibly be interested in.
Exotic armor and weapons can be purchased, as well as upgraded versions of pre-The Dark Below armor and weapons.
For this week, you'll find Xur in the Tower Hangar, in the lounge. You have from now though 1am PDT on Sunday, February 15.
Helm of Inmost Light [Exotic Titan helmet] – 13SC
Crest of Alpha Lupi [Exotic Hunter chest armout] – 13SC
Light Beyond Nemesis [Exotic Warlock helmet] – 13SC
Ice Breaker [Exotic sniper rifle] – 17SC
Exotic Shard – 7SC
As for the Exotics you can upgrade, take a look.
ARMOUR – Knucklehead Radar, Crest of Alpha Lupi, Helm of Inmost Light, Crest of Alpha Lupi, Apotheosis Veil, Sunbreakers
WEAPONS – The Last Word, Ice Breaker, Patience and Time, Super Good Advice, Gjallarhorn, Truth