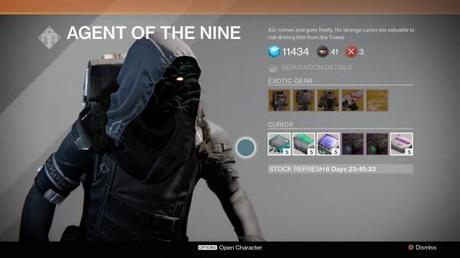 Xur: Agent of the Nine is back again in Destiny's Tower to take all those Strange Coins you worked so hard for this week.
Xur can be found in the Hall of Guardians this weekend, just to the right of the Vanguard Mentors' table. You have from now until 2AM PDT on Sunday October 26 to buy from him.
Here's what he has on offer this weekend.
The Armamentarium [Exotic Titan chest armour] – 13SC
Crest of Alpha Lupi [Exotic Hunter chest armour] – 13SC
Voidfang Vestments [Exotic Warlock chest armour] – 13SC
Suros Regime [Exotic auto rifle] – 23SC
Exotic Engram [gauntlets] – 23MoL