TAKEAWAY: They are called the touch screen generation.  They have high expectations, low to zero patience for static content on a digital platform, and they are the most finger happy group to come along ever. Let's get ready to design for them.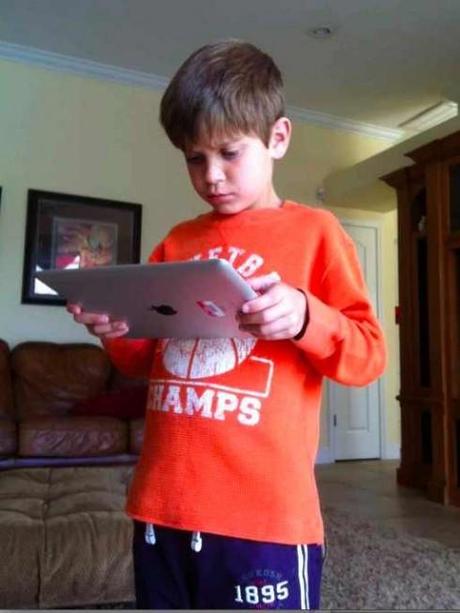 My grandson Jack Garcia hopes for a mini iPad for his birthday, but he is already an iPad veteran (borrowing his brothers')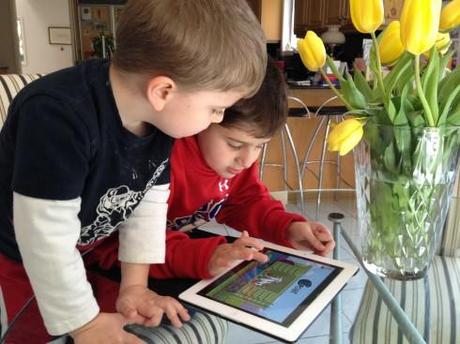 My grandsons Daniel and Frankie Barravecchio sharing the iPad during a visit to my home: it is the second thing they ask for (after the ice cream!)
I have 11 reasons why I am more than convinced that the touch screen generation is very much here and fully engaged with all things digital.  Touching comes intuitively.  Reacting quickly is the next step. Impatience is the rule.  Short concentration spans are the test.  And they are not going to grow out of the "touch that screen and get results mode" anytime soon.
Those 11 reasons are my 11 grandchildren—-three girls and eight boys aged 2 1/2 to 14 years.  They are my living laboratory.  I am the proud and curious grandpa who listens to their requests for "can I have your iPad for a few minutes?" or, even more daring, "will I get an iPad for my birthday?".
For example, my grandson Jack Garcia, who will be 7 on April 19, just this past weekend reminded me of this important date and whispered in my ear: "Abo, can I have a mini iPad from you for my birthday?"
I am thinking about it, but I know that I am a soft touch, especially for a cute little guy with blue eyes and a missing tooth, who loves to draw and who excels at everything he does.
My experience as a grandparent is shared by parents and grandparents all over the globe.
For example, there is KJ Dell'Antonia, who wrote a recent piece in New York Times about her experiences. She's a mother of four members of the touch screen generation, whom she says are "just ordinary 'digital natives,' to whom Google is synonymous with "encyclopedia," and who have never known a world without instant Internet access, however seldom they use it."
Her article quotes from a piece titled Touch Screen Generation by Hanna Rosin in The Atlantic, who argues that children of the "touch-screen generation" are something different. (Yes, I know!)
Ms. Rosin writes that young's children's hands are "a natural extension of their thoughts," and the iPad's touch screen means that suddenly those hands and thoughts — with the help of thousands of apps for the iPad and other touch-screen devices — can make a seemingly endless array of things happen with a swipe of a finger.
Talk about making the finger happy.  These kids know how and they seek every opportunity to make those fingers happy. Today it's all about reading, 'riting and swiping.
The lesson for designers
I constantly remind editors and designers in my workshops that the audience they need to be preparing and planning for is someone sitting in a middle school classroom as we speak.  They will be doing most of their reading on a mobile platform, the place where they will also do almost everything else during the course of a day, from texting, to reading mails, to shopping, to finding where the best pizza is just before lunch.
We have to be ready to provide these guys with "editions" that will satisfy their hunger for information in platforms that some of us older adults might not be so inclined to use to read a long piece, for example, but which the touch generation will consume well and with gusto on the smallest of screens.
The touch screen generation is also going to be much less forgiving when our digital editions are static and lacking in pop ups.
Maybe instead of touch screen generation we should call them the pop up generation, those for whom touch has become their most revered of the senses.
We simply can't allow for those guys to let their finger do a second tap on a photo or image and NOT get results.
The touch screen generation is forever likely to be connected, engaged and taking for granted that their touch will yield visual surprises.
Tough group to please, but it is their generation that will determine how we edit and design for their consumption.
Designing for those quick, young fingers has never been more important. It's pop up time.
Where's Mario until March 31, 2013?

Mario's upcoming speaking engagements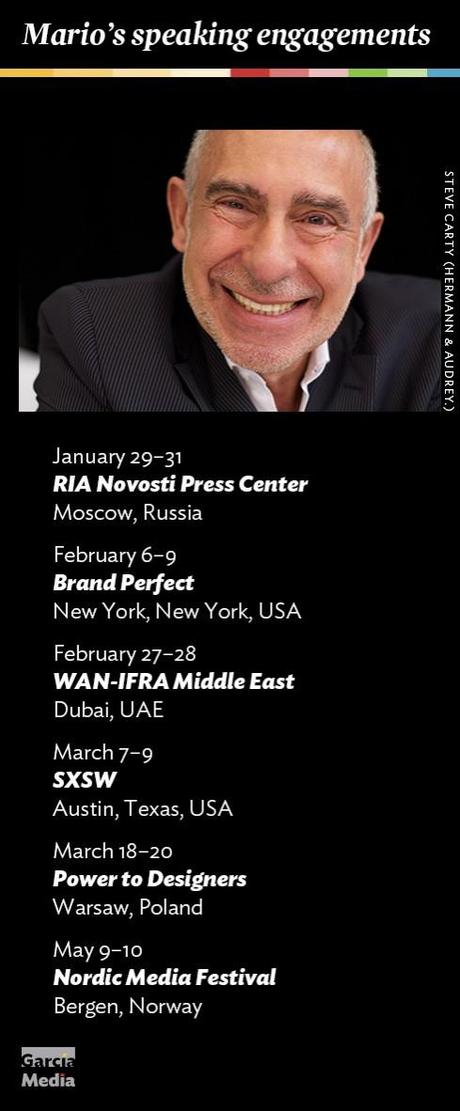 Take advantage of our iPad Design/Ad Lab workshops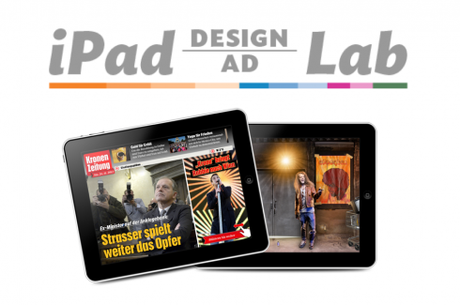 Do you want to take your brand to the next level by creating a tablet edition? Garcia Media can help. We now offer one- to two-day iPad Design Lab workshops on demand to jumpstart your presence on this exciting new platform. We also offer iPad Ad Lab workshops to develop engaging advertising models for your app. Contact us for more information.

Purchase the book on the iBookstore
iPad Design Lab has been given the
QED

 Seal
TheMarioBlog post #1225