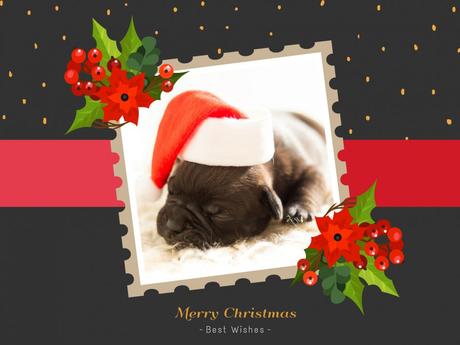 Are you running late with Christmas and New Year Eve's greeting cards? Postal services too slow for you? Well, if you've been napping, or busy in the weeks leading up to Christmas, and frankly who hasn't? We've all been busy with closing out work before the year ends. Then online customized greeting cards are the way to go.
And Fotor is the app to use to create the sweetest and most easy to customize greeting cards.
I have used Fotor for many quick and easy edits to images for the blog, and now this year plan to use them to create New Year's Eve greeting cards as well.
Here are some cool options I saw:
You can customize these cards as much or as little as you want.
For example, remove the photo of the puppy and replace it with another one of your family, or loved one.
Apart from Christmas cards, you can also design Christmas collages to send out to loved ones who cannot be there with you during the festive season. Just take a few photos and use one of the collage features to lay them out in an interesting way.
Here I have used Fotor's funky collage option to create a Christmas message solely composed of Christmassy photos of the kids.
It's as easy as 1-2-3.
Fotor have a variety of card templates giving you a number of options to try.
So, this Christmas, give your creativity a boost and create a Christmas Story with DIY cards, collages, and designs.