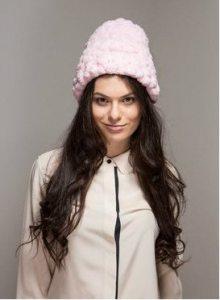 Purse designer Rachel Feinberg
Huffington Post: On the DAMNsel website, designer Rachel Feinberg explains how an encounter with 'manspreading' inspired her to create these attention grabbing bags.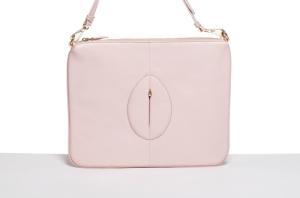 The "original" p*ssy pouch: $345.00
One morning while commuting on the New York Metro, Feinberg sat down with her legs crossed and three bags piled on her lap. She took out the book she was reading: Politics of Reality: Oppression by Marilyn Frye, and was struck by a line that read: "Consider, by comparison, the discipline of women's cramped physical postures and attenuated stride."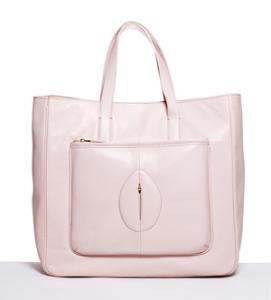 The "tote": $750.00
When Feinberg glanced around the train she noticed that every woman in her train carriage, herself included, was sat with their bag on their lap and their legs either crossed or tightly closed, while the majority of men sat with their legs relaxed and "extended in all directions".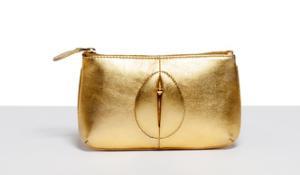 The wallet: $160.00
"We [women] have been instructed to not be as carefree as men," Feinberg told Refinery29. "We don't have that luxury, and I don't understand why. Are women's body parts more offensive? Even more so than a penis? This doesn't make sense to me."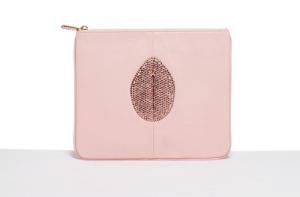 Add the "fill" vajazzle option: An extra $100.00
She added that the thought process behind the DAMNsel purses was that they would allow women to: "still sit with their legs crossed, and still remain conservative and 'classy' if they chose, yet if a DAMNsel purse is held on their lap, it reminds the world that we are still advocating for social change, and women should have the opportunity to be as open as men."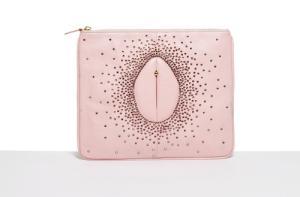 Add the "orgasm" vajazzle option: An extra $100.00
Feinberg's bags have now found some high profile fans, including Beyoncé, transgender model Andreja Pejic, and model Elliott Sailors.
From the DAMNsel web site:
"The F train instantly became her laboratory. Unwinding her legs and moving her purse to the vacant seat next to her, Rachel consciously transformed herself from a self-policing inmate of Foucault's Panopticon to a fashion designer intrigued by the spatial consciousness and tendencies of the subway's occupants: the majority of females sit with their bags on their lap, while the majority of males allow their belongings to occupy the space next to them. 'Why?' She asked. And with that question in mind, the P*ssy Pouch was born."
Well, I give her credit for capitalizing on the feminist movement. Who says a good womyn doesn't love to make money?
DCG