What do you imagine when you think of velvet? Elvis? Scarlett O'Hara's green drapery dress? Dogs playing poker? When I think of velvet, I imagine: luxury and elegance, deep colors, holiday parties and the most amazing texture known to (wo)man.
Okay, maybe you weren't really thinking of the proverbial dogs-playing-poker wall art – but you might have been thinking something campy, like an eccentric grandma's sofa. Or worse, a frumpy dress your mom may have made you wear to a performance of The Nutcracker when you were 12. But I'm here to tell you that velvet can be dressy, or casual. Glamorous and sexy, or every-day. Traditional, or trendy and edgy.
The trick to wearing velvet is to strategically build the outfit around the velvet piece. You want this piece – and this piece, only – to take center stage. All the other pieces play supporting roles to your velvet piece. Add more velvet and you run the risk of looking too matchy, so choose your velvet wisely.
Because good velvet can be very expensive nowadays, you'll have to either save up or find it vintage. But, the good news is, those who just don't know what to do with a vintage velvet piece are always giving them to Goodwill, selling on consignment or hawking at flea markets. With Thanksgiving, the "holidays" and New Year approaching, NOW is the time for you to be hunting for velvet.
So find a good thrift store, roll up your sleeves and get hunting!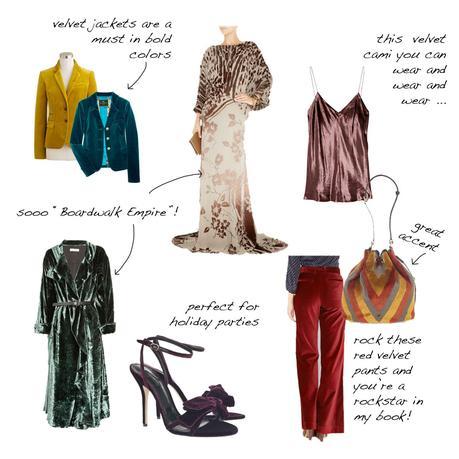 Shopping credits: gold jacket, teal jacket, dress, cami, bag, pants, shoes, coat.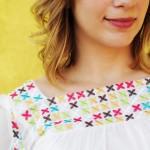 Nicole Longstreath is a wardrobe coach in Orange County, CA specializing in helping her clients build affordable and expressive wardrobes. She writes a daily blog on fashion and wardrobe-building and loves combing her favorite thrift store whenever she gets the chance.