I recently caught up with the latest episodes of Downton Abbey, the increasingly popular British drama, and it made a huge impression on me….so much so that I seemed to be stuck in a British accent at the end of my four day marathon. All of the visuals and historical details flooded me with both intrigue and inspiration.
Downton Abbey may be a fictional estate, but the mansion is filmed in the very real Highclere Castle.  Highclere Castle is a building with a long history, but it underwent extensive renovations in the mid-19th century and now features a primarily Elizabethan Revival style.  From the intricate exterior architecture to the richly decorated interiors, the setting of Highclere Castle adds depth to every scene of the series.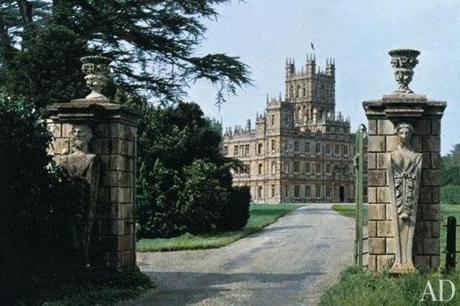 There is something luxurious, yet oddly comforting about the Victorian estate.  In the rooms inhabited by the aristocracy, intricately detailed patterns and accent pieces add layers of interest.  The French green silks which adorn the walls of this Drawing Room creates a jewel-box-like atmosphere and their hand-picked appearance gives the space a very personalized air.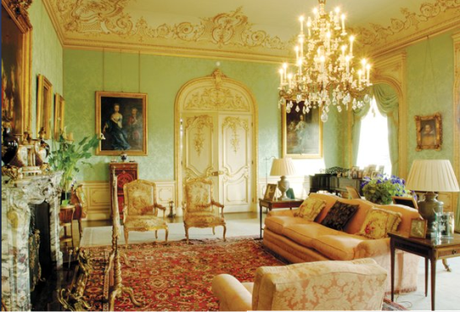 The grand Saloon and its Gothic style of architecture functions as the heart of Highclere Castle and Downton Abbey.  Here the intricate Spanish leather wall coverings clad the walls of the saloon, creating the most spectacular texture and detail.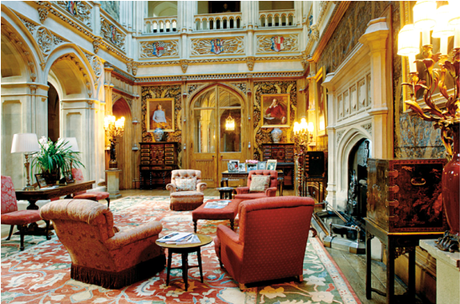 Below is a detail of the Saloon's embossed leather walls.  The colors, tones and texture mirror the Gothic arches throughout the space.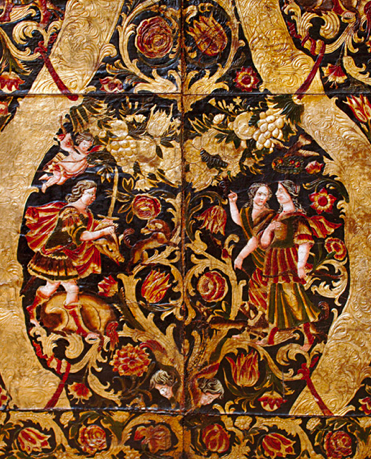 The Mercia bedroom is known best for its four poster bed adorned with 18th Century silks and coordinating furniture.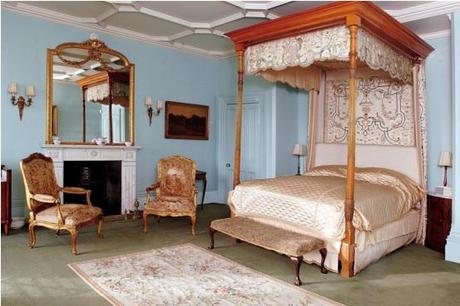 The Library is one of the more popular rooms used for filming "Downton" and is still used by its owners The Earl and Countess of Camarvon to this day as a favorite space to lounge before and after lunch and dinner.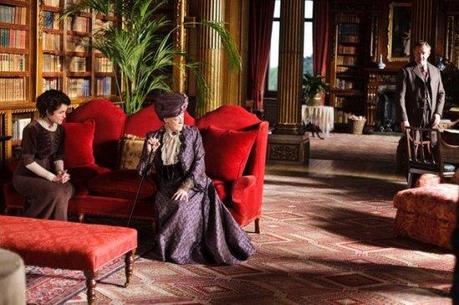 Which is your favorite room in Downton Abbey?
Looking forward to the next installment aren't you?
Stay Inspired!
Photo Credits:
1.) Architectural Digest
2-6) Highclere Castle