I was instantly drawn to this gorgeous room of the Chateau de Fleury, featured in the recent issue of Elle Decor.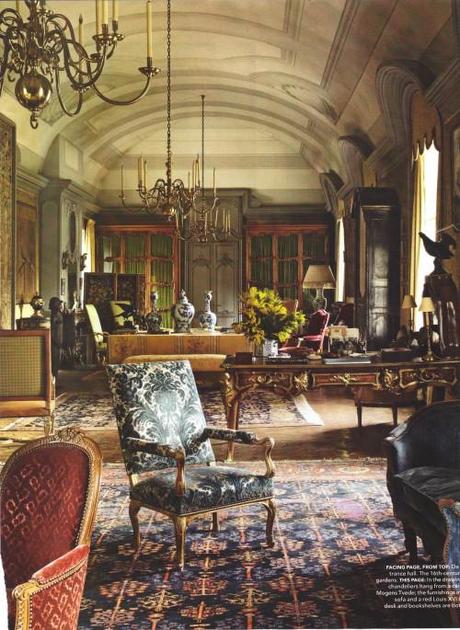 image from Inspiration Library
It's a private home and I immediately fell for the woodwork on the cabinetry along the back wall, the architectural mouldings and, of course, that painted ceiling.  I flashed back to previously life where I may have lived here, the days when I wore petticoats, walked arm-in-arm with friends through the garden and pined away for a man who I could never be with.  Such a romantic, tortured life…
But then I was thinking, could I really live in a place like this today?  I love me some traditional design, and the craftsmanship of period design is unbeatable.  But in order to live in a really historic home you'd have to be comfortable living in historic style.  My lifestyle is pretty casual – I like to sit on anything my butt can reach, my husband leaves his stuff wherever he's standing at the moment, and we don't even own a proper set of coasters.  And don't get me started on the dog.  No, I think I'm better off admiring these gorgeous spaces from afar and letting the truly charmed ladies and gentlemen (such as Chateau owner Charles de Ganay) give them their proper.
So what do you think, could you live here?