I'm working towards launching an interior decorating business early next year.  In preparation, I'll be working on some design boards and I thought it'd be fun to share them with you.  My goal is to provide stylish designs that are budget-conscious.  I hope to share a new design with you every week and I'll list the source and price for each of the items I include.
So this week, I worked on a fun, glam, navy, pink, and gold living room.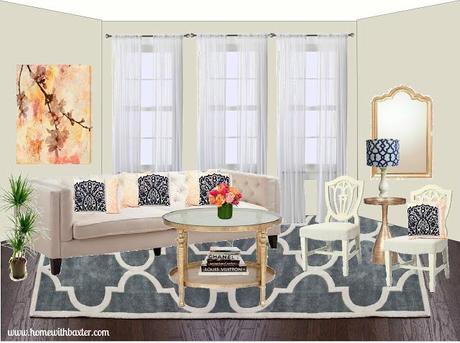 We all know that gold hues are making a major comeback right now, and I have to say I'm really drawn to the trend.  It has me looking around at all my brushed nickel and wanting to change things up! Also really popular are the big, bold, geometric patterns on rugs, curtains, pillows, lampshades. I love big, bold, patterns, and I don't know if I'll ever tire of using them.  But...one recommendation I have is to limit their use to things like pillows and lampshades instead of using them on more expensive items like furniture and rugs.  If you're someone who's on a strict budget and can't swap out your couch every few years, it's best to sick with something neutral that will carry you through many styles.  You can always update the look with those fun pillows, curtains, and accessories.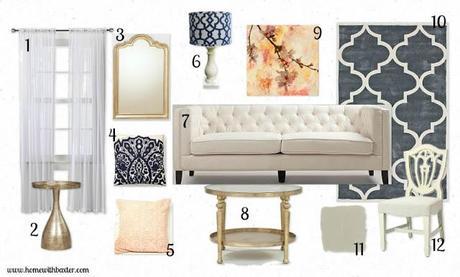 Want to shop this room?  Here's a source list:
1. Target Home Chiffon Window Sheer $14.99 - $17.99 per panel 2. World Market Sofia Accent Table $95.99 (ends today!), Regularly $159.99 3.World Market Nico Arch Mirror $139.99 4. One Kings Lane - A.L.M Collection Johar Pillow Sale ended 5. Etsy - Gypsya - Organic Handmade Applique / Light Pink Pillow 

$22.00

6. Doodlefish Navy Fretwork Table Lamp $140.00 7. World Market Kendall Ivory Sofa $699.99  8. World Market Chiara Coffee Table $229.99 9. World Market Rapture III $89.99 - $199.99 10. Rugs USA Keno Trellis Slate Rug $179-$579 11. Benjamin Moore November Rain 12. Home Decorators Annie Painted Chair $115.99