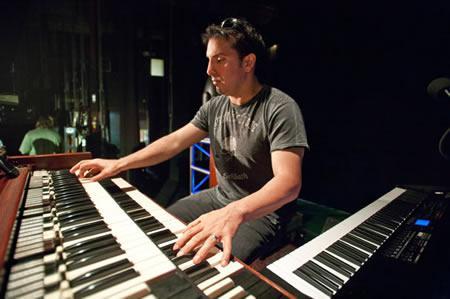 photo: Rick Gold
There is a lot of guitar on Oceana, the new Derek Sherinian solo album. The American rock keyboardist played with Alice Cooper, Kiss and Dream Theater, and is now a vital part of Black Country Communion, the blues rock supergroup. He is the perfect sideman who rarely steps in to the limelight, even when the album bears his name. The nine instrumentals were mostly writyen with drummer Simon Philips, with Joe Bonamassa, Doug Aldrich and Steve Stevens lending a hand.
Derek Sherinian treats his fellow musicians with respect and no doubt the felling is mutual, but the loud guitars drown him out far too often, which is a hsme becuase he gentel touch that can conjure shines the most whbe he takes a trip through jazz and fusion. Oceana lacks urgency, and seasoned studio rats like Steve Lukather and Tony MacAlpine are a bit too clean to up the ante. The best stuff comes along with fellow BCC member Bonamassa (I Heard That) plugs in and the title track has some good stuff bubbling under the surface. The album sounds like a showcase or a resume of the tricks and sounds of a great player, who is just too polite to take center stage.

Oceana is released on Music Theory Recordings. Release date: September 5th.
Tracks:
Five Elements
Mercury 7
Mulholland
Euphoria
Ghost Runner
El Camino Diablo
I Heard That
Seven Sins
Oceana