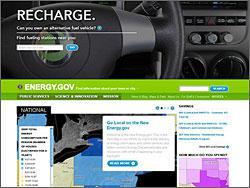 Go to doe.gov and you will end up at the government's website for the Department of Energy. The Energy Department also runs Energy.gov, which relaunched their sister site late last week in order to "make it easier for you to find important energy information and services in your community." Check out the revamped site. They are soliciting feedback to find out what users think of the updates and to learn what users would like to see added.
According to the DOE's news story, the new site offers localized data and resources to save energy and money. Furthermore, the venture will save taxpayers more than $10 million annually, through restructuring the site and moving toward an open source system that will allow for more efficient online engagement. Secretary of Energy Stephen Chu was quoted in the story as saying "'Our goal is to make Energy.gov easier to use, more transparent and more participatory.'" He goes on to say "'This next phase is part of our ongoing commitment to empower consumers and businesses with the information, tools and services they need to save money, create jobs and find opportunities in the new energy economy.'"
Revamping the site was part of the Obama Administration's larger "Campaign to Cut Waste", which is a "dedicated effort across the federal government to streamline operations, end unnecessary spending and save taxpayers money." The excising of waste is a key component to the economical sustainability that remains elusive, but can be integrated into economical sustainability through measures such as improving energy efficiency.
[Image source]