So- we were ready to head out for our 5 day vacation BUT first things first- Did we bring

Avrie

with? No... this was our 1st big trip away without the babes. I would be l

ying

if I said that I was NOT AT ALL anxious about being away from Avrie this long. Sure,

we've

done a weekend away and survived AND

I

was in no way nervous for her well being- I was just nervous about how I was going to feel (more on that later)

. 
Tuesday night we packed up Avrie's things for 6 days at Grandma & Grandpa Ertle's house. To keep things "normal" we didn't just drop her off and run- we hung out, unpacked her things, fed her dinner, mom made taco

s

, we had a beergarita or two, put Avrie in her jammies

&

took a couple of pictures [to which she gave me the BIGGEST hugs saying "I Yove You"]. We then got ready to go, tears free for everyone, she waved us out the door telling is "Bye" and to "Have Fun!" ... I was missing her already BUT it was WAY easier than I ever imagined it

to be.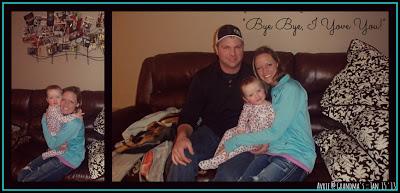 [noti

ce avrie's head tilted? this is her new "cheeeeese" pose!]


Aaron and I made a Target/Walmart run for a few last minute items and stopped into our neighborhood Applebee's to organize ou

r thoughts

and make lists [I LOVE LISTS] while enjoying a couple of margaritas. NOW we were feeling SO ready for sun, sand & Mexico!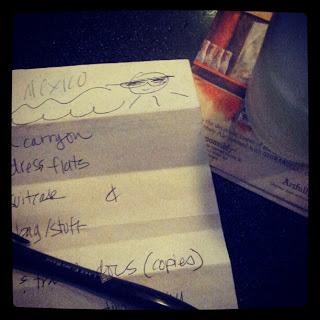 We headed home, I finished up my packing, and since I have had a lingering head cold & sore throat I knew I couldn't pull an all nighter and needed some rest. SO with a 2:30am wake up Aaron headed to bed and I went to sleep on the couch around 1:45am for a quick cat nap... Aaron's alarm was set to go off in 45 minutes so that we could meet Paul so that he could get us to the airport by 4am, our flight was leaving at 6:10am. Zzzzzzz...
I shut my eyes and then the next thing I knew- Aaron's phone was ringing from the bedroom and I hear him jumping out of bed sleepily shouting "Oh No... Oh Sh#t!! ANDREA!" 
[que one of the best lines from one of the BEST movies ever

!!

]
WE SLEPT IN!!!!
 We Slept In!  


We literally

scrambled around the house at 3:44am grabbing everything that we HOPEFULLY packed up just a few hours ago! After throwing everything in the ol' Durango we were off & going thru our mental checklist on the fly by 3:59am! Thankfully Paul was able to still ride with us as we sped to the airport- in semi- freezing rain, mind you! I thought I we were all going to die!
It all worked out, we made it to the airport by 5am and checked in with enough time to grab a snack, spot a couple of travel buddies [Pat & Miranda] and a bathroom break. Our flight boarded on time- I had no time for my nerves to ramp up [I hate taking off & landing when flying]. After a little bit of plane de-icing we were in the air with a direct flight to Cabo Cancun! After a 3 hour and 50 minute flight with a little bit of questionable turbulence in the first hour- we were safe and back on land! Whheewww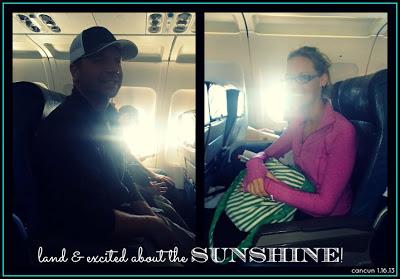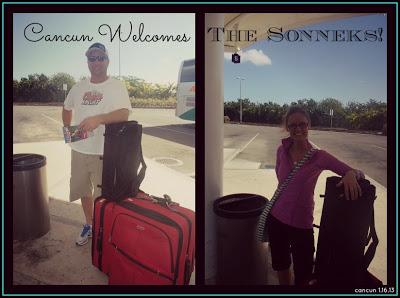 We found our transportation, Aaron ordered a welcome beer and we took it to go. We arrived at our hotel destination, Cancun's Gran Caribe Real, we checked-in, but our Jr Suite Ocean View room 2201 wasn't going to be available until 3pm. Bummmerrrr- no worries, I grabbed gear from my bags and changed into beach attire in el bano!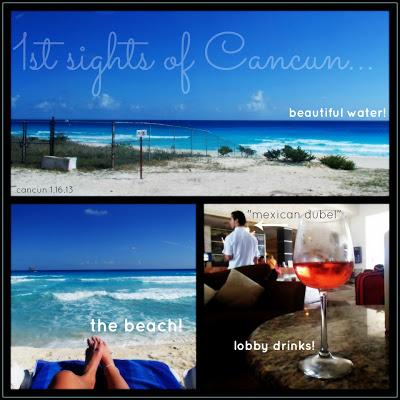 The afternoon was spent with Brad & Kris finding lunch within the All Inclusive resort followed by front row beach chairs oceanside in the sun!
aahhhhhhhh paradise!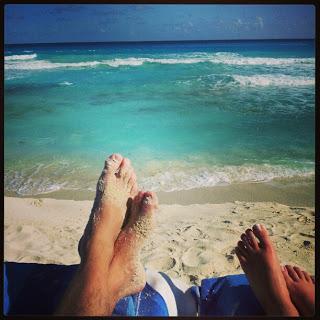 [my one and only picture from vaca on my phone! SPRINT succckkkssss in

m

exico- apparently]
 Brad & Kris [my in-laws] also traveled to join us & our freinds on this trip. They are some of our favorite Mexican travel buddies and introduced Aaron & I to our first love, CABO!! We were so excited to have them there with us!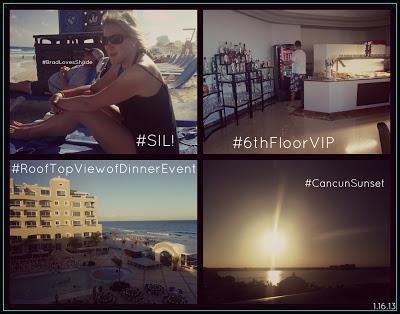 [some good old #hashtagging for a random collage of photos from the afternoon]
Once our room was ready, Aaron and I toured around the hotel to check things out- we found a cool rooftop view and the exclusive 6th floor VIP lounge- one of Aaron's favorite places in the hotel. We found our room, unpacked, organized our belongings [we like to move in and feel at home by putting our clothes in the closet and in the dresser drawers, crowding the bathroom counter tops with all of my makeup and "bathroom stuff"- does anyone else do this?]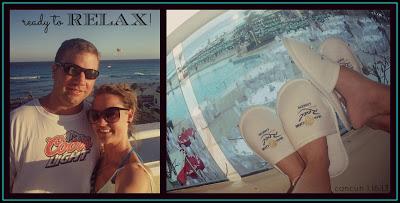 After a little bit of down time, it was time to go on the hotel hunt and welcome some of our besties! Chad & Kristin were due to arrive b/w 2 & 3ish and Kyle around 5ish. We found Kyle and then headed down to the pool for an outdoor evening event dinner along with Pat & Miranda. We were all impressed with the array of tasty and [of course] authentic Mexican food. You know, sometimes, the food just isn't good- but this was good!
After dinner we mingled a bit with the wedding crew [Oh yeah, this trip was planned around The Campion Wedding that we were all invited to- you'll read more about that on day 3]. Aaron and I sat with Chad for one of THE best "Chad story telling" sessions of all time. Let me just say that we now know Chad's most UNfavorite kind of sandwich AND Aaron and were both SO exhausted from laughing that we had to call it a night! A day of travel, excitement and laughs did us in. PLUS once again with not feeling 100% I was getting a terrible headache and stuffing up the more tired I got. So it was off to bed we went.
 [Oops

!

no photos from the evening #bloggerfail]
Be sure to come back tomorrow, you'll want to read all about our first full day spent in Cancun! We had fun even though it was NOT sunny... at all...