Autumn has to be one of the best seasons for taking photos. The weather is cool and you can dress comfortably. The leaves, with their changing colors, provide the perfect backdrop to any scene. If you live in the countryside, the autumn scenes are in your view constantly, but when you live in a city ( a mega city at that), the autumn scenes may be more difficult to locate. My daily scenes are filled with high-rises, large marts and car-filled streets. Fortunately, in a city that still embraces its history, there are places I can go to experience the changing colors of fall. Deoksugung (Deoksu Palace) is one of those places.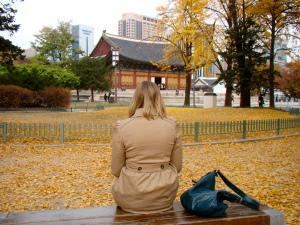 We went to this palace last week when we were lucky enough to get a day off work. It was the perfect time to visit as the trees still had their colorful leaves, but there were enough leaves to blanket the walkways.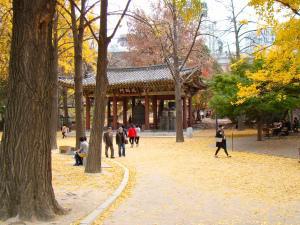 The palace itself has a long history. The palace dates back to 1592. It was then first used as a royal residence because all the other palaces were burned down during the Imjin war.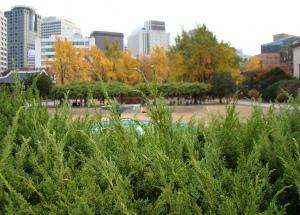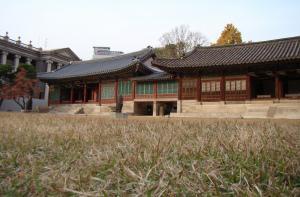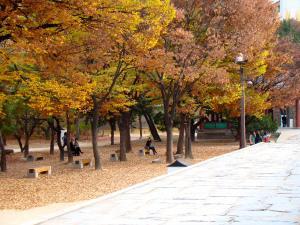 Though not as crowded as a weekend at this palace will be, it still had a lot of people for a Thursday afternoon. These benches under the colorful trees provided the perfect place to rest and enjoy the scenery.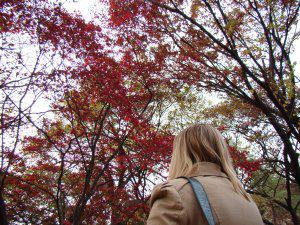 These red leaves remind me of the red maple leaves of my home country, which is another beautiful place to be in autumn.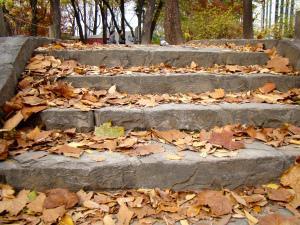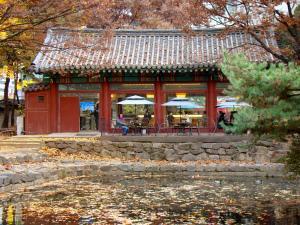 The tables outside the palace cafe provide a perfect spot to drink some warm tea and enjoy the view. We never bothered to stop though. We were too busy taking pictures.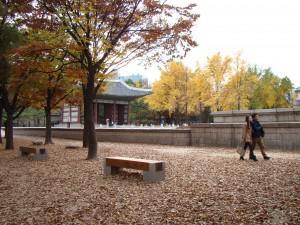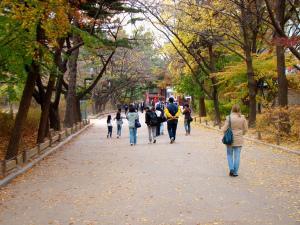 Deoksugung is a great spot in Seoul to experience the colors of Autumn. In a city of busyness, buildings and buses, it was nice to find a place to relax and enjoy one of the most enjoyable seasons.
What place do you like to visit in fall?
More photos can be found here.