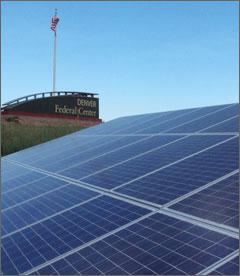 The Denver Federal Center, home to numerous federal agencies, recently finished installing the second photovoltaic array. Located in the western suburb of Lakewood, the Federal Center is located just south of Highway 6 and on the new light rail line that will run out to nearby Golden starting in 2013.
According to 9 News, The Federal Center received $120 million via the Recovery Act. However, a document from the Recovery Act's website indicates a cost of $18.4 million. Interestingly, the document blasts the cost of building carports to specifically serve as infrastructure upon which solar panels were to be placed. According to the document, which comes from the Inspector General of The U.S. General Services Administration (GSA), the return on investment for the carport portion of the project was an untenable 85 years. Ground mounted systems, like those visible from Highway 6, have a much lower cost. These arrays are approximately 40% less expensive.
E Light Wind and Solar was the installer on the project. In the first phase of the installation two years ago, E Light installed 3.2 megawatts, or 14,612 solar panels on the roof of three buildings. The original project came about as a result of GSA responding to a request from Xcel Energy, the local utility, which was looking for companies and organizations to provide land and opportunities to generate renewable energy so as to meet Colorado's state mandate. The solar park was planned for
six empty acres of land on the DFC campus. A proposal was developed to build a park that would generate nearly 10 percent of the campus's peak electric demand. The design for the project began in June 2007 by SunEdison, LLC, and construction was completed in January 2008. The total cost of the solar park was $6.9 million.

The park produces 1.6 million kWh of energy each year. Due to this energy output, 1,244 metric tons of CO2 are not emitted into the atmosphere and 6.5 railcars of coal are not burned each year. The energy produced by the solar panels each year is enough to power 145 average houses in Colorado.
More recently, ground mounted systems were installed, bringing the total energy produced on site to roughly 15%. 9 News in Denver reports that the array will also improve air and water quality. Sue Damour, regional administrator of GSA is quoted as saying, "'It improves our air quality. It improves our water quality because we're working on water systems as well as air and it lowers the cost of operating our buildings.'" Unfortunately, the mechanism by which the photovoltaic arrays improve air and water quality was not mention.
[Image source]