Your Dental Habits are a Good Example for Kids
It is important to give your kids a head start when it comes to dental care. Waiting till they are older can be traumatizing. But if you take your child to a local dentist office early in life, their fear will be alleviated. Heck they may even look forward to going to the dentist. Kids are usually showered with stickers, toothbrushes, and other free items when they visit the dentist. Taking care of our teeth is part of hygiene and the best time to start this is when a person is still young.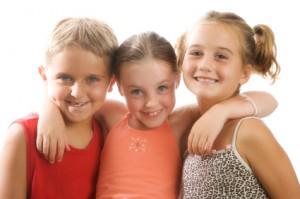 Most of us are not aware that babies who are starting to grow their teeth need dental care. Simply brushing your small child's teeth can help plant the seed that dental care is important. Parents play an important role in their children's overall hygiene, which must be started while they are still infants.  Swabbing of their tongue must be done after feeding the baby by using a warm moist cloth or a gauze pad.  This will get rid of the food particles left inside the baby's mouth.  I remember that I started to swab my baby's tongue when my eldest sister visited me.  As a first time mother, I never knew that this should be done.  I am sure that parents like me would want to know how to keep their children's teeth healthy.
The benefit of your child visiting the dentist early is:
• Identifying Premature Tooth Decay• Explain proper brushing and flossing
• Discussing proper diet and the harmful effects of processed sugar
• Diagnose any Orthodontic problems that stem from a pacifier
• Education kids on teeth growth and development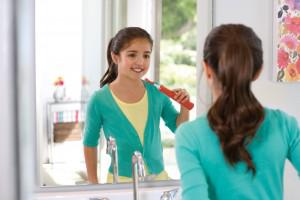 A good Pediatric Dentist will not only have finished their 4-year course in general dentistry , but they will have spent at least 3 years specializing and practicing children's dentistry making them qualified to check on children's teeth.  Apart from that, they can also check on the oral health of babies, teenagers and other people with special dental needs.  Submitting your baby to a pediatric dentist will give your child the chance to grow healthy teeth, as a children's dentist will be able to foresee any incoming oral problems.
We have heard about the proper way of brushing teeth and the use of toothpaste with fluoride; however, children will have a better understanding of it if explained well.  It is not enough that we monitor our children on brushing their teeth but we have to admit that teaching a child to brush his teeth for the first time involves a lot of prodding.  The child may resist it especially if he does not like the taste of the toothpaste.Getting a dentist for your child would assist you on teaching good dental hygiene as well as giving your child the opportunity to make him look pleasant.  A child who had been given this chance will not have trouble when he becomes a teenager.

The teen years are the start where our children begin to feel different.  During this stage, they get more self-conscious of their appearance and poor dentures can gravely affect their self-confidence.  However, if you have sent your child to a pediatric dentist, this can be avoided as the latter has started ways to make him develop a good set of teeth.Good oral hygiene is a part of being healthy.  It also adds to the total look of a person.  Do not put off this important obligation as a parent.  Let a pediatric dentist see your child and give him the best smile he can give anyone with a good set of teeth.
 
You can read more tips and tricks about Pediatric Dentistry at the All Smiles Childrens Dentist page.