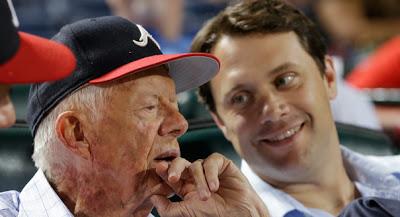 (This image of Jason Carter, with his grandfather, is from Politico.com.)
Democrats were already hoping to score a major victory in the red state of Georgia. They have an excellent candidate for the U.S. Senate -- Michelle Nunn, daughter of the revered Democratic Georgia senator Sam Nunn. Ms. Nunn has been running equal in the polls with all of her possible GOP rivals, and many believe she has a good chance to win that race. But having some other strong Democratic candidates on the ballot would increase her chances.
Now that has happened. State Senator Jason Carter announced on Wednesday, in an interview with the Atlanta Journal-Constitution, that he will seek the Democratic nomination to run against the incumbent Republican governor in the 2014 election. Jason is the grandson of former Georgia governor and U.S. president, Jimmy Carter.
I haven't seen any polls on Carter's chances in the gubernatorial race, but his family name won't hurt him and I'm sure his grandfather will do some campaigning (which will help). Best of all, having both Carter and Nunn on the Democratic ticket will increase the party's chances of winning either or both races. With candidates like these, competent candidates sporting well-known family names, will show us whether Georgia (like Virginia) is ready to move from a red state to a purple one.