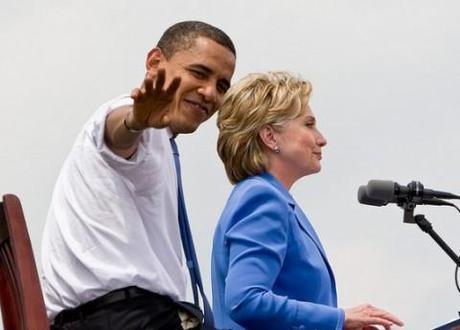 Hillary Clinton and Barack Obama. Photo credit: sskennel, http://flic.kr/p/4ZgZFG
Is Barack Obama's re-election campaign over before it has even begun? The debt ceiling wrangling appears to have damaged the US president's reputation, with some commentators arguing that the resulting deal was a win for the Republicans. There are suggestions that Democrats now doubt Obama's ability to win the 2012 presidential election – and that some wish they'd opted for Secretary of State Hillary Clinton instead.
No we can't. Republicans see President Obama as "increasingly vulnerable", according to Chris Cilliza and Aaron Blake at The Washington Post's Fix blog: "The data reflects a growing sense among Republicans that if they nominate someone who can keep the focus on Obama during the general election, they can win the race." Such is the disillusionment with Obama's presidency that his aides are planning a "negative" campaign, wrote Ben Smith on the Politico blog: "The candidate who ran on 'hope' in 2008 has little choice four years later but to run a slashing, personal campaign aimed at disqualifying his likeliest opponent." Smith reported that, should Mitt Romney gain the Republican nomination, the Obama campaign will play up their opponent's "weirdness".
Clinton for President! The Telegraph quoted  Democrat activist Gary Pearce as saying Clinton, unlike the incumbent president, has the requisite toughness to see off the Republicans: "You see a yearning for a Bill Clinton-type approach and Hillary would reflect that. Obama is just a different political animal, he is a low-key guy," he said. Over at The Daily Beast, Leslie Bennetts reported that Republicans and Democrats at a recent political event all nodded in agreement when someone said Clinton would have been a better president than Obama. "Many Democrats are furious and heartbroken at how ineffectual he seemed in dealing with Republican opponents over the debt ceiling, and liberals are particularly incensed by what they see as his capitulation to conservatives on fundamental liberal principles," wrote Bennetts.
Betrayal? But in a Wall Street Journal blog, James Taranto argued that left-wing progressive Democrats are "betraying" Obama and that they are misguided in their idealisation of Bill Clinton's presidency: "Progs loved Bill Clinton because he was a winner. They loathe Barack Obama because he is a loser. But Obama is a loser in large part because he is unwilling to do what Clinton did to make himself a winner: cast aside progressive ideology when it is expedient to do so." Over at Jezebel, Irin Carmon argued that the latest swell of support for Clinton is fuelled partly by nostalgia for her husband, and partly by "the narrative, pushed by a small but well-amplified contingent, that Obama was the hotshot young man benefiting from sexism and ageism against Hillary".
"Fifty-nine percent say they have an unfavorable view of the Republican party, an all-time high dating back to 1992 when the question was first asked," according to CNN.
Obama for President! But Obama shouldn't abandon hope just yet, argued Ramesh Ponnuru at Bloomberg. Given the polarisation of US voters, "merely being an acceptable alternative to a failed incumbent won't be enough for the Republicans to win the White House," he wrote. Alex M. Parker agreed that current polling data does not suggest Obama could not be re-elected; indeed, he argued on the US News Washington blog that the president may have gained political currency from the debt deal. Analysing recent polls from Public Policy Polling, Parker found that "while the debt ceiling deal is very unpopular, blame or anger for it doesn't tend to fall on the president". According to a recent CNN/ORC poll, support for the Democrats remains steady, while the Republicans have suffered a drop in popularity; and the Tea Party movement has lost ground among US voters.