Hot on the heels of Dr. Eowyn's  post of Charlotte Dem. Mayor being indicted HERE  
I was listening to El Rushbo yesterday and he was talking about Leland Yee. Who is Yee? Read on. Then keep reading for a bunch of recent Dems Busted (Bold)
This guy takes the cake for Democrat corruption, and hypocrisy.

—————————————————————————————————-
March 27, 2014


Windows Media
BEGIN TRANSCRIPT
RUSH: I'm not quite through with telling you who Leland Yee is.  He is big in California, and running for secretary of state. He's a state senator.  He was practically Piers Morgan's go-to guy for attacking legal gun owners.  You may not have seen it because nobody watched CNN or Piers Morgan, but Leland Yee was a frequent guest.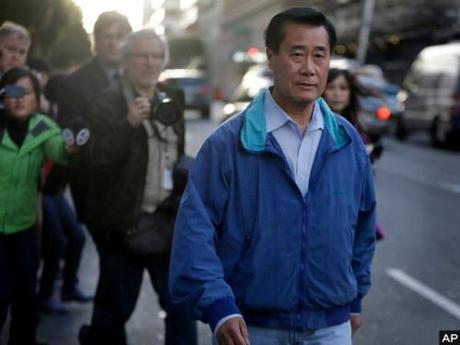 leland-yee
When he would leave an appearance on Piers Morgan, he'd go straight to Twitter.  Here's a typical tweet from Leland Yee back on December 14th: "A year after Sandy Hook, let us recommit ourselves to working towards a safer society for all of us."  I wonder how long Yee might have been allegedly helping to run guns?  I wonder if he was involved in Fast and Furious, for example.
But here's a guy tweeting that we need to "recommit ourselves to working towards a safer society for all of us," and this guy's out running M16s, $2 million worth.  Now, as I mentioned, "Charlotte Mayor Patrick Cannon is facing public corruption charges after prosecutors said he solicited $48,000 in cash, airline tickets, a hotel room and the use of a luxury apartment as bribes from undercover FBI agents posing as developers.
"Cannon is the latest mayor of a large city to face a scandal in recent years. Here is a look at some others: Former New Orleans Mayor Ray Nagin is awaiting sentencing after being found guilty in February of 20 counts of accepting bribes and other corruption charges…"  This is the guy that couldn't get the school buses in action to get people moved out of New Orleans when Katrina was coming in.
"Former Trenton, NJ, Mayor Tony Mack was convicted in February of taking money in exchange for getting approval in 2012 to develop a downtown parking garage that only existed in a federal sting. He is awaiting sentencing. He is one of a long list of New Jersey mayors to face corruption charges since 2000, including the leaders of Newark, Camden, Paterson, Perth Amboy, Hoboken, Passaic, Asbury Park, Orange and Hamilton."
These are all Democrats. 
The story does not say that, by the way.
They're all Democrats. 
"Former San Diego Mayor Bob Filner," you remember him, "resigned last August after a number of sexual harassment allegations. He pleaded guilty to false imprisonment and misdemeanor battery in October..." Now, these are all Democrats, and all of these stings and scandal investigations took place during the Obama administration, and they run the FBI.  Something is going on here.
You would never expect this to happen unless… No, I don't even want to speculate.  I'll just take it for what it is at face value.  "Former Detroit Mayor Kwame Kilpatrick is serving 28 years in prison after being convicted in October of extortion, bribery, conspiracy and other crimes." Now, keep in mind as you hear all that, it's the Tea Party that poses the biggest threat to this country. 
Yeah. It's the Tea Party.
"In October 2008, Kilpatrick spent 99 days in jail for his part in a sex-and-text scandal. Former Birmingham, AL, Mayor Larry Langford took $235,000 in cash, loans and gifts… He was convicted of 60 counts in October 2009 and is serving 15 years in prison." Now, here's another story. This is a Washington Post version of the story: "FBI Conducts Raids, Targeting Elected Officials in Three States."
Again, they don't say Democrats here. 
"Federal law enforcement officials arrested two public officials in California and North Carolina and raided the office of a New York state senator in connection with separate corruption investigations on Wednesday. Hundreds of federal agents conducted searches of offices around the San Francisco Bay Area and arrested several people on Tuesday, including state Sen. Leland Yee (D) and a former head of a Hong Kong-based crime syndicate…
"Charlotte Mayor Patrick Cannon… William Scarborough," an assemblyman. Both Democrats. "Investigators raided the Gee King Tong Free Masons offices in Chinatown, which [Raymond "Shrimp Boy"] Chow runs." He was one of the associates of California state senator (Democrat) Leland Yee.  Now, folks, if this is strictly Democrats – which, so far, it is. We don't know if there are other investigations yet to be revealed.
This mayor of Charlotte, by the way, has only been mayor for six months.  It didn't take them long to size this guy up, for example.  The FBI has been working on all of this for years — and not a peep, folks!  In North Carolina, they've been setting up former mayor Cannon since 2010.  They spent over $480,000 to do it.  It's hard to conclude otherwise.  It's like the FBI has been working secretly behind the scenes since Obama was elected.
If this sweep is strictly Democrats, which so far it is, what does that mean?  What does that tell you?  Does it tell you anything? (interruption) Well, that is a possibility.  It is entirely possible that what's going on here is that the head honchos of the Democrat Party are basically behind an effort to take out all of their bad apples before the election; make 'em old news by the time the election comes around.
The timing here is obviously curious, and it really is hard to believe the FBI would be working against the wishes of the Regime.  Isn't it?  That's really hard to calculate.  So it could well be that the Democrats know they got some bad apples and they're gonna just clear the decks, just get rid of all of them early enough in the year so that when the election comes around and their opponents start talking about it, it's old news.
"Nothing to see here!"
It's still, however, big news.
However, it's not all that big.  I've got one sound bite on it.  I'm talking it's big, big. But in the Drive-Bys, you're not seeing a whole lot of it, is my point.  We did put together a montage.  We can call this "the Culture of Corruption."  Prominent Democrat politicians have been arrested all across the fruited plain within the last week.  This is a 44-second montage of various Drive-By reporters from all over the country…
DAN ASHLEY: State Senator Leland Yee is in federal court right now facing a seven-count felony indictment of gun trafficking and political corruption. His stunning arrest happened this morning as the FBI raided multiple Bay Area locations.
MAUREEN O'BOYLE: Charlotte Mayor Patrick Cannon arrested, accused of bribery, theft and corruption.
MIKE MONTECALVO: (b-roll noise) Federal and state law enforcement execute two search warrants targeting the home and office of Rhode Island House Speaker, Gordon Fox.
ROMA TORRE: The FBI raids the home, office, and Albany hotel room of a state assemblyman from Queens. Investigators carried away boxes of William Scarborough's files. The assemblyman is accused of abusing his expense vouchers.
CYNTHIA BRUNO: Former Illinois state representative Keith Farnham is being investigated for child pornography.
RUSH:  Oh, big time there!  Keith Farnham is being investigated for child pornography, and the assemblyman's accused of "abusing his expense vouchers."  Would you like to see that?  How do you abuse an expense voucher?  I know what the infobabe means, but that's not what you say. You know, in our common culture, when you start saying that somebody abused their expense vouchers, the low-information crowd's gonna say, "Well, gee, can you show me how that's done?  Is it cool?"
Dingy Harry belongs in any discussion of a culture of corruption.  And, in fact, years ago the LA Times did a huge expose on Dingy Harry's fraudulent, smarmy, sneaky land deals in Nevada and elsewhere.  Yesterday in Washington on Capitol Hill, there was a Senate Democrat press conference, and Dingy Harry spoke. During the Q&A, an unidentified Drive-By reporter and Dingy Harry went at it.
REPORTER:  Your decision yesterday to reimburse your campaign $17,000 –
REID:  I think it was $16,000, but whatever.
REPORTER:  Was that an acknowledgement that it was wrong to use your granddaughter –
REID:  No, no –
REPORTER:  — as a vendor and –
REID:  No, no in fact…
REPORTER:  — can you say why –
REID:  No, no in fact –
REPORTER:  — you decided to do that in the first place?
REID:  No, in fact it wasn't. We complied with all the rules, that was said. I just wanted to avoid — and I'm very fortunate that I can write that check, so I'm – it's all done. But everything was complied with beforehand.
REPORTER:  Well –
REID:  I'm not going to answer –
REPORTER:  — what was the reasoning in the first place?
REID:  Read my statement.
RUSH:  I'm not gonna answer. Read my statement.  Shut up!  You know who you're talking to?  I've taken care of it, I can write that check.  You can't.  I'm lucky I can.  I have money and you don't, so shut up.  I'm Harry Reid.  Except he never talks that loud.  You know, speaking of having a cold, when I hear Harry Reid, I want to constantly either blow my nose or clear my throat.  That voice, it sounds like he needs a drain in there, just sounds like there's so much saliva floating around in his mouth that you just — I don't know.  It makes me nervous.  And let's just listen to a montage of Democrats, this is 2006, when they ran to recapture the House on the supposed culture of corruption that was the Republican Party.
LOUISE SLAUGHTER: We will expose the deepest roots of the culture of corruption.
HARRY REID: This is a culture of corruption.
NANCY PELOSI: The Republican culture of corruption.
HARRY REID: I know a little bit about corruption.
OBAMA: Political corruption.
NANCY PELOSI: The culture of corruption.
RUSH:  I think Pelosi was very tight with Democrat State Senator Leland Yee, if I'm not mistaken.
BREAK TRANSCRIPT
RUSH:  Now, one thing about the Dingy Harry corruption, I just want to give you the details of what happened.  Dingy Harry's scandal this year — Remember, folks, the reason why — I'm interrupting myself here to make an observation.  It was the House Bank Scandal and the House Post Office Scandal that came to light in 1990, maybe a little earlier than that, but you can talk about the Contract with America, and it did matter. But the only reason — well, no, I can't say the only reason.
Rest of the story HERE!
~Steve~                                                        H/T     El Rushbo