New to little Indiana? Subscribe for free to my RSS feed. Thanks for stopping by!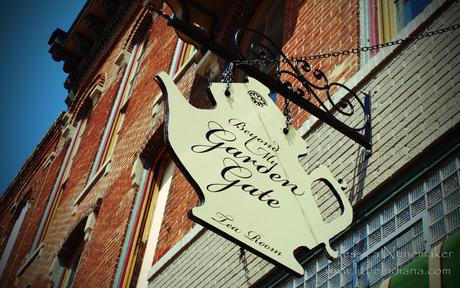 Delphi, Indiana: Beyond My Garden Gate Tea Room
Delphi, Indiana is abuzz with talk of the new Beyond My Garden Gate Tea Room. After finally making my way there and walking inside? Well, it wasn't hard to see why!
Delphi, Indiana Tea Room
At Beyond My Garden Gate Tea Room dining is more than something you do: It becomes a memorable experience.
Inside the tastefully decorated tea room in this small Indiana town, you will be greeted with a smile, and ushered to one of the lovely seating options.
Teacups adorn the walls, antiques abound, and everything, everywhere is carefully arranged with an artful hand.
Surrounded by so much pretty, you feel more like a guest in someone's home and less like a customer!
Beyond My Garden Gate Tea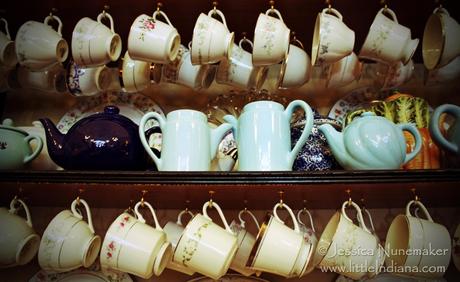 Delphi, Indiana Tea Room: Relax and Recharge
Choose your tea–it comes with a scone and is simply divine. No, these aren't rock-hard scones with little taste. These are amazing. Soft and flavorful.
I chose the Blueberry Tea (cold). That's one of my favorite teas ever! I was so glad to see it on the menu.
Hubs went for something a bit more unusual: The Garden Gate Lavender Lemonade.
What a fun drink! We ended up switching after he went through his first glass because it was too sweet for him. Me? I loved them both!
Beyond My Garden Gate Tea Room Menu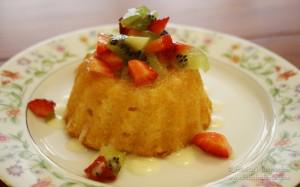 Delphi, Indiana Tea Room: Lemon Pouf Cake
There's more than tea and scones on the menu in this Carroll County establishment!
The small selection of fresh tea sandwiches sounded delicious: Creamy Cucumber Flowers with Dill Sandwiches or Grilled Cheese with Spinach and Bacon.
But one look at the dessert menu and I was done for!
Lemon Poof Bread with Lemon Drizzle. It's the signature dessert at the tea room–and simply beautiful! Lemony yet not overpoweringly so, it was perfection!
Hubs loved his Hummingbird Cake. As an old-fashioned dessert, I am delighted to see it here. Somehow, it just fits.
Leisurely Lunching
Beyond My Garden Gate Tea Room is meant for relaxation and recharging. Don't go here and expect to rush right through. Sit back, relax, and enjoy a second cup of tea.

It's precisely what this tea room was made for: The simple pleasure of a great cup of tea.
Call ahead for reservations. This beautifully restored tea room can fill up fast!