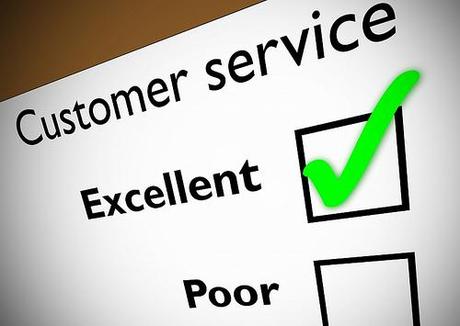 customer-service (Photo credit: verticalpharmacy)
Last month, my Dell laptop almost died on me. The hard drive had been so badly damaged by constant overheating, that it was ready to give up.
I went to the repair shop and had it changed. I also asked for the fan to be cleaned. This cost me $300.
So, needless to say that when I started getting the "blue screen of death" a couple of weeks later, I was not amused.
I contacted Dell support through their Twitter handle (@Dellcares). And even though it was a Friday evening, a person that I will call Mark sent me a DM within minutes.
He first asked me to run tests, and quickly identified that the issue came from my defective video driver. Here is a chunk of our conversation:
Mark: "Can we do a clean installation of the operating system?"
Me: "What does it mean? You mean de-installing everything on my computer?" (I am not very computer savvy, as you can see)
Mark: "Yes. Since we have already tried uninstalling and re-installing the video drivers I would suggest to do a re-installation of the OS."
Me: "My OS was re-installed a month ago. So I am not going through that again."
Mark: " Then I would suggest replacing the video card on the system which is causing the problem."
Me: "I recently had to spend 300 dollars to have my dell laptop repaired because of constant overheating, which almost destroyed my hard drive, now I need a new video card?"
Mark: "You will not be charged for the service as the system is in warranty."
Me: "The system is under warranty? I didn't use Dell to have my laptop repaired. My laptop is 2 years old. I know it's not your fault, but I'm tired of problems with Dell laptops. There's always something wrong."
Mark: "Sorry to hear. We are there to help you fix the issue. Kindly let me know if your okay with replacing the parts." (Emphasis is mine)
Me: "If you don't charge me for the parts, I am ok with changing the video driver. I don't want to have to re-install everything, though."
Mark: "Kindly DM me the address, primary and alternate contact numbers to setup the service."
[...]
"I have processed a dispatch with reference #xxxxxxxxx. You will not be charged for the service. A tech will contact you via phone." (Emphasis is mine)
I had to re-read that DM several times. Dell was going to send someone to replace my video card for free? I honestly could not believe it.
Since I did not know Mark's name at first, I asked him to share it with me. He called me within minutes to repeat what he had said before and tell me who he was.
The following Monday, I received a DM from @DellCares: A technician would call me the next day to come and replace my video card.
And this is exactly what happened. The tech called me and showed up on my doorstep 40 minutes earlier than planned. She stayed until she was sure that everything worked — and did not ask me for a cent!
I sent a DM to @DellCares to let them know that everything had gone well and thank them for their help.
"Thanks for the update Cendrine. Feel free to reach out to us anytime. Have a good one," was their answer.
Over the years, I have had to contact Dell support for several issues. Every time, they handled my complaints extremely well. And that's why, despite all the issues I have encountered, Dell remains my favorite computer brand.
When a business cares, everyone wins.
Now, your turn to speak. Has a company gone the extra mile to help you? Share your story in the comment section below!