Our good friends recently moved back to the U S of A. But, before they left we had a few last hurrahs with them.
We met them for lunch in Gangnam (an area of Seoul) at a great breakfast place called Butterfinger. We have heard good things about this place for years and finally got around to going there. The menu is huge and the portions are just as large. We had our fill of eggs, waffles, french toast, sausages, ham and bacon. I even had an Orange Fanta float to go with it. It wasn't much of a breakfast drink but, it was pretty delicious. The prices were a little high but, most western breakfasts in Seoul are over-priced.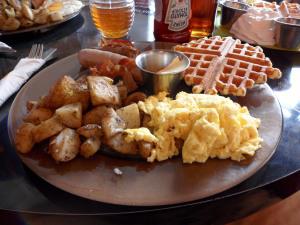 A hearty Butterfinger breakfast
Later that evening after dinner, we went to a 노래방 (Singing room). It's basically karaoke, but, instead of singing in front of total strangers, you rent a room for you and your friends. This way you can really let your hair down, bellow out your favorite tunes and not embarrass yourself or your friends and family. In my case the song I'm bellowing out is "Staying Alive" by the Bee Gees. It has been my karaoke staple since watching Jimmy Fallon on the Barry Gibb Show.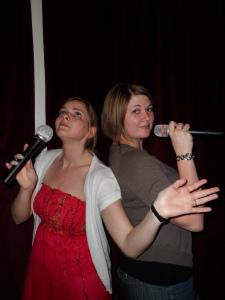 Soul Sisters
Our friends came over a couple of nights later for one last hang out. We presented them with Korean car gifts and their favorite food that I'm sure they will miss. Then it was one last trip to Baskin Robbins.
We had some good times over their final weekend here and over the year and half we've known them. Looking forward to hanging out with them again on the other side (of the world that is).
View more pics here: