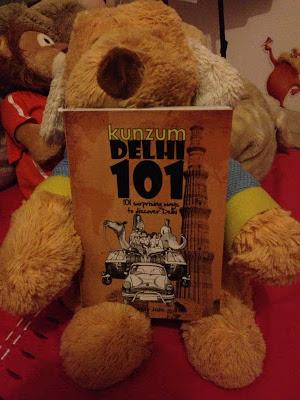 I have to admit that when I asked Ajay Jain, the author of Delhi 101: 101 Surprising ways to discover Delhi, to send me the book for review, I wasn't being completely honest with him. While I was interested in reviewing the book, it was primarily a challenge that I had set upon myself. You see, I have grown up in Delhi. I went to one of the most prestigious schools of South Delhi. I learnt driving around places like Green Park, Hauz Khas, South Extension, and Greater Kailash. My first English movie in a theater was at Chanakya Cinema Hall, although, due to its proximity to my school I frequented the Priya Cinema complex much more. Even though I moved into the suburbs, or what everyone calls the NCR region, about a decade ago, I've seen Delhi change over the years into a more metropolitan yet less innocent city than it once was.
Kunzum Delhi 101 was a challenge to test my knowledge about Delhi. Having spent two-thirds of my life in the city I wanted to check what I knew and if I had discovered it to the fullest. If I had the right to call Delhi my birth place and the city I still call home?
So, what was the outcome? I am happy to say that I passed, barely.
While reading and reviewing Ajay Jain's Postcards from Ladakh, I realized that he has a knack for history. Just as he did in that book with Ladakh, Ajay tells an abbreviated and interesting history of Delhi using the numerous tombs, mosques, minars, and other historical sites that are spread throughout the city. There aren't any chapters, but the book somewhat follows an order taking one aspect of the city at a time. While this is great if you are simply reading the book, but can prove to be problematic if you want to use it as a guide book. The lack of any index adds a little to the frustration if you need to find something that you read earlier and want to refer back to again.
Ajay's writing style is very simplistic and understandable. He barely uses 'big' words that require a dictionary; that being the one thing I have always appreciated about his books. He also has a rather unique sense of humor, so make sure you look out for his trademark one-liners throughout the book. What also comes across in the book is the passion that Ajay holds towards traveling and exploring in general. It is this very passion that makes him discovery every nook and corner of Delhi and brings forth the different cultures and people that make Delhi one of the most vibrant cities of the world.
Delhi 101 gives you wholesome entertainment and information. It covers all aspects of life that make-up a metropolitan city, especially one as interesting as Delhi. For a traveler, there is a huge amount of knowledge to be found in these pages about the different markets, gardens, foods, and sites, going as far as even giving tips on how to "crash a Punjabi wedding". The book is a great companion to have even if you have lived in Delhi all your life. It not only covers most of the prominent places in Delhi, but also informs about ways to get to those places and the best time to visit them. Obviously, it goes without saying that Delhi 101 makes for an excellent gift if you have travelers wanting to experience this multi-cultural mishmash of a city.
The book does fall out on a few points. As mentioned above the lack of an index seems to be a major flaw. Even if the author doesn't want to promote the book as a "guide book", the fact remains that it is one, and a pretty good one at that. Furthermore, while I am always for a little bit of self-promotion, Ajay seems to have gone a tad overboard with the promotions of his various interests in this book. About 6-7 front and back pages, including Tip# 101, are saved for advertisements that the author is linked to. Personally, that takes away from the beauty of the book on the whole. Lastly, there is so much information throughout the book that at times it comes across as rushed. I do like the flow of the book, but a bit more order would have done wonders to the overall look of the book.
Delhi 101 might be an 'incomplete guide' to the ever-changing Delhi but it sure is a wonderful companion to have when you want to explore this wonderful city with the knowledge that only an insider could have.