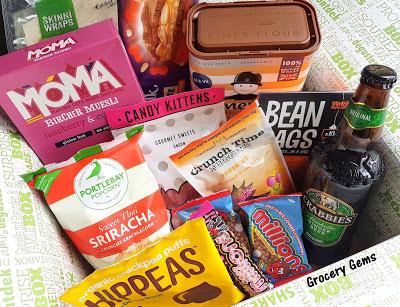 The latest Degustabox arrived with a fun 'Picnic' theme. It was packed full of my favorite type of foodie products - snacks! Check out all the products I received in this surprise foodie box below as well as a discount code for £7 off.
Discount Code - £7 off: 
8TL75
Degustabox is a monthly foodie subscription service that sends out a range of specially selected foodie 

products. There's always a great mix of new products that I haven't tried before, as well as plenty of treats from more established brands. 

Each Degustabox costs £12.99, delivery costs are included in the price, and there is no fixed contract involved - you can cancel at any time.
The discount code is a massive £7 off, making the first box only £5.99 delivered! Check out the Degustabox website below and enter the new discount code: 8TL75

www.degustabox.com/en
The selection of products can vary but here's a quick round up of all the products I received in the May 
Degustabox
: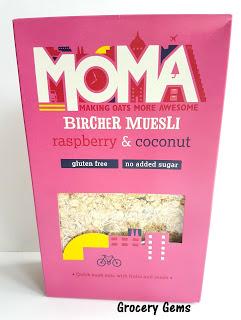 MOMA Gluten Free Raspberry & Coconut Bircher Muesli
: This ticks so many boxes in my 'ideal product' list. The raspberry and coconut flavor is one of my favorite combinations anyway but I was delighted to see it in a muesli. I also love the fact that this is a bircher muesli and can be pre-prepared and left overnight soaked in apple juice and a few spoons of yogurt. It's such a delicious and filling treat.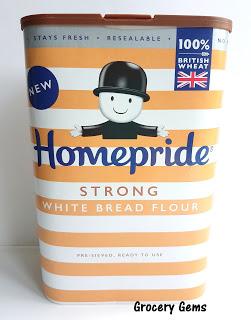 Homepride Strong White Bread Flour
: I have a bread machine that we use on a fairly regular basis, although more for making banana bread than actual bread. So far I've used this Homepride Strong White Bread Flavour to make pizza bases and bread rolls and it's given perfect results every time.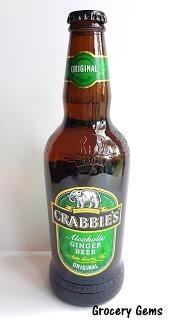 Crabbie's Original Alcoholic Ginger Beer
: Crabbie's Ginger Beer is crafted for 6 weeks using real Asian ginger and a secret recipe. It's a lovely refreshing drink with a pleasantly warming ginger flavor. This product is included in the alcohol version of the Degustabox only.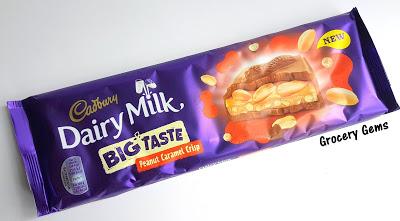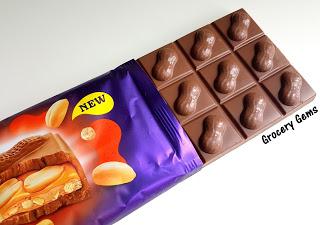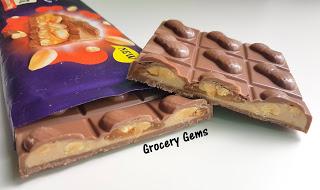 Cadbury Dairy Milk Peanut Caramel Crisp
: I haven't tried any of the Cadbury Dairy Milk Big Taste range so I was excited to find this huge bar in the Degustabox. The description of this bar is epic- a peanut filling with peanut pieces and crunchy crispies, all topped off with goey caramel and peanut halves. As a peanut fan I had high expectations for this one and it certainly didn't disappoint. The peanut flavor comes through superbly and is sheer perfection with the sweetness of the caramel and Cadbury Dairy Milk chocolate. This is one of the best new Cadbury chocolate bars I've tried for ages. I just have to get my hands on the original Milka version next time!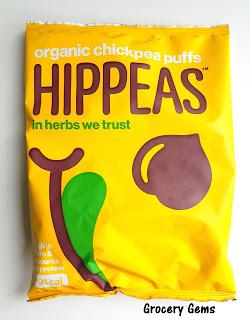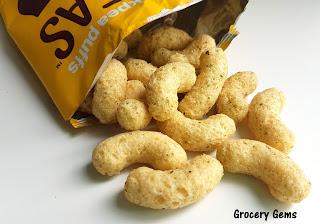 Hippeas
: This new range is made with organic chickpeas to create a delicious puffed snack. The flavor 'In Herbs We Trust' is absolutely delicious - packed full of Mediterranean flavours such as rosemary and oregano. The ingredients list is reassuringly simple and handily makes these snacks vegan and gluten free. The snacks don't really taste of chickpea and I certainly wouldn't have guess if I hadn't known - they're just very satisfying and moreish! I would definitely buy these again.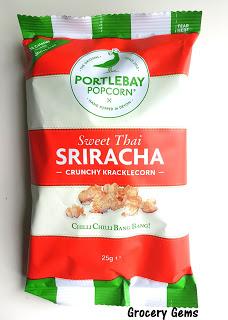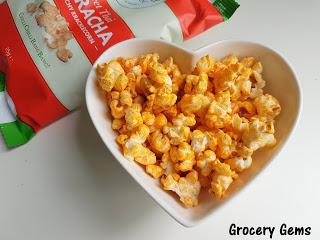 Portlebay Popcorn
: There are two flavours available in this Degustabox; either Wasabi & Sweet Ginger or Sweet Thai Siracha.  I'm a big fan of authentic Siracha sauce but I'm not as keen on Siracha flavoured snacks. This one has a strong chilli and manages to successfully capture that unique Siracha flavor.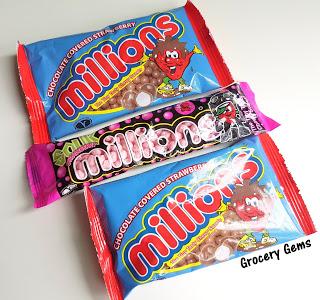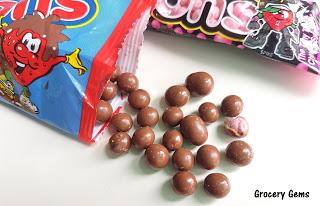 Millions
: Three packs of Millions sweets including the new Chocolate Covered Strawberry Millions and Sour Strawberry Millions. The chocolate covered ones are surprisingly tasty!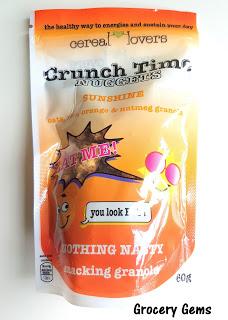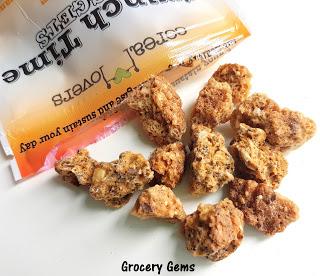 Cereal Lovers CrunchTime Nuggets
: A crunchy, yet chewy, cereal snack made with oats and seeds and flavoured with nutmeg, cinnamon and orange. I often snack on cereal so I liked the idea of these nuggets and I enjoyed the strong cinnamon flavor.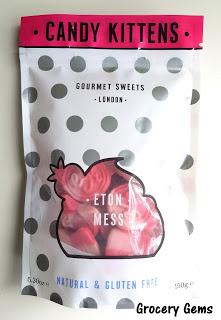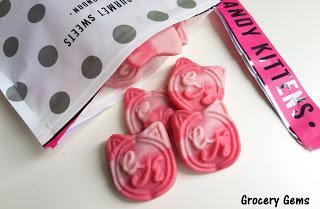 Candy Kittens
: I've always wanted to try this brand so I was pleased to find a large packet in the Degustabox of the Eton Mess flavor. These Candy Kittens are made with natural flavours and colouring and are gluten free. The flavor and texture here is enjoyable but I couldn't really detect the 'Eton Mess' element, they reminded me more of blackcurrant sweets.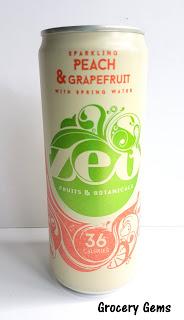 Zeo Peach & Grapefruit
: Zeo drinks are all natural, low calorie soft drinks made with natural fruit juices and botanicals. I really enjoyed this Peach & Grapefruit flavour, it had a strong peachy flavor with a zingy citrus finish.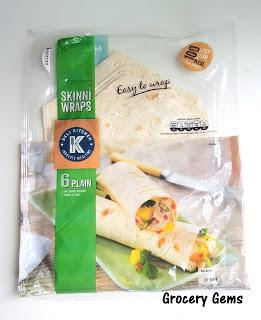 Deli Kitchen Skinni Wraps
: These wraps have a very unique shape, pointy at one end, that makes them super easy for making sandwiches or savoury wraps with no mess. They're also less than 100 calories per large wrap.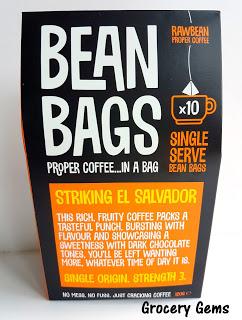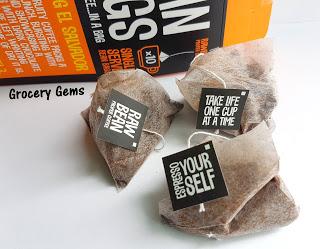 Raw Bean Bags Striking El Salvador
: A very innovative new way to enjoy a filter coffee. These one-cup pyramid shaped coffee bean bags are easy to use and create a delicious cup of coffee. I'm a bit of a coffee addict and these really hit the spot!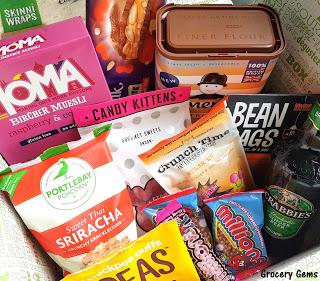 That's the full packed list! I was really impressed with this month's surprise selection from Degustabox. I especially enjoyed the Moma Bircher cereal (a new favourite!), Hippeas and Cadbury Dairy Milk Big Taste. If you're a subscriber then I'd love to hear your thoughts on this months Degustabox selection in the comments below.
For more details:
Degustabox website: 
www.degustabox.com
Like on Facebook: 
https://www.facebook.com/DegustaboxUK
Follow on Twitter: https://twitter.com/DegustaboxUK
PR Samples
.