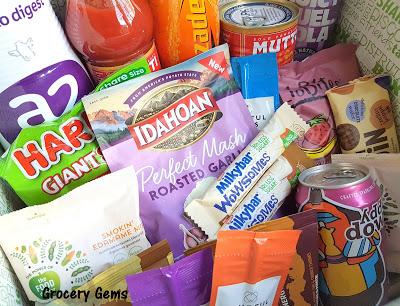 A quick look at all the goodies that arrived in the April Degustabox. It was a packed one! Keep reading for all the details and also a fab money off code for your first box.
Discount Code - 8TL75
D
egustabox is a monthly foodie subscription service that sends out a range of specially selected foodie 
products. There's always a great mix of new products that I haven't tried before, as well as plenty of treats from more established brands. 
Each Degustabox costs £12.99, delivery costs are included in the price, and there is no fixed contract involved - you can cancel at any time. 
The discount code gives you £5 off your first box, making it only £7.99 delivered. Check out the Degustabox website below and enter the new discount code: 8TL75www.degustabox.com/en/
Here's a quick round up of all the products I received in the latest Degustabox: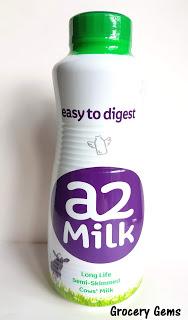 a2 Milk
: A full size bottle of easy to digest a2 Milk. This long life milk is naturally free from the A1 protein found in regular cow's milk so it's easier to digest. I always like to keep a bottle of long life milk in the cupboard so this will come in very useful.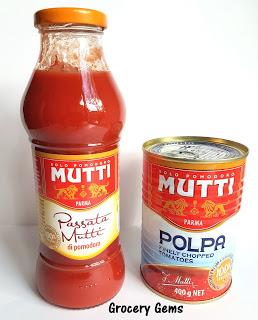 Mutti Passata & Finely Chopped Tomatoes
: This expensive looking brand is the winner of a Great Taste Award and uses only the finest Italian tomatoes. I use a lot of tinned tomatoes and passata at home in my cooking so I couldn't wait to give these a try. I was pleased to find that both had lovely thick textures with a wonderful depth of flavor to the tomatoes.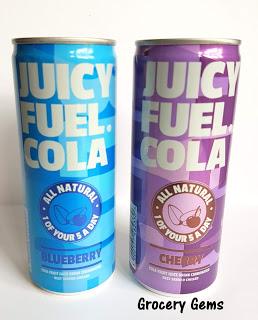 Juicy Fuel Cola
: Two cans of an energy drink with a difference. The all natural Juicy Fuel Cola is available in two flavours; Blueberry and Cherry. It's made with no added sugar, no artificial sweeteners and no preservatives and somehow also manages to be one of your five a day! I loved both of these - the flavours are deliciously fruity but also have that distinctive cola flavor.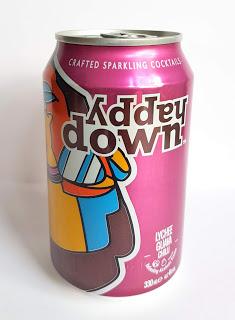 Happy Down Sparkling Cocktail
: For subscribers to the alcohol option only. This is an intriguing drink flavoured with fresh lychee, guava, and a dash of chilli to create a refreshing cocktail.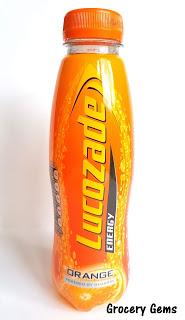 Lucozade Energy Orange
: A bottle of Lucozade Energy - one of my husbands favorite drinks so he quickly called dibs on this one!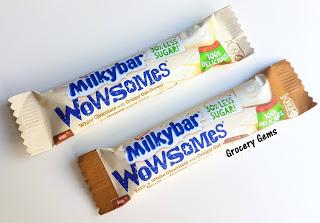 Milkybar Wowsomes
: Little bars of Milkybar white chocolate made with 30% less sugar compared to similar chocolate bars. There are two varieties; white chocolate fill and milk chocolate with a crispy oat cereal. My kids loved these!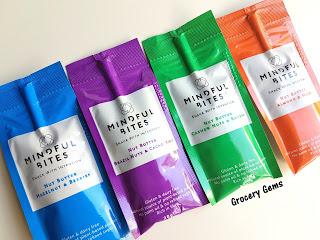 Mindful Bites
: A premium brand of unique nut butters blended with superfoods and unique flavours. I received four innovative 'squeeze sachets' which are meant to be eaten on the go. I loved the  flavours of these, especially the Hazelnut & Blueberry Nut Butter - the fruity blueberry was a surprisingly good match for the creamy hazelnut butter.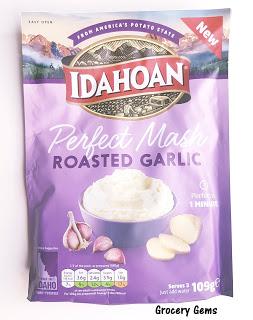 Idahoan's Perfect Mash
: This easy to make instant mash is super convenient and tasty. The whole family loved the creamy, fluffy texture and delicious garlic flavor. It's perfect with veggie sausages!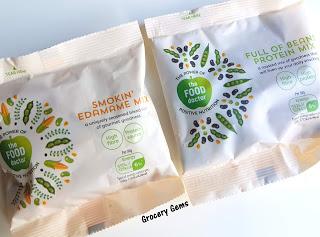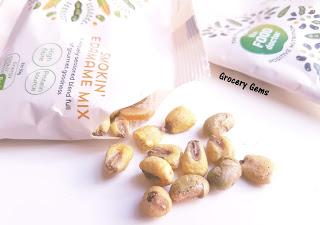 The Food Doctor
: Two little packs of tasty snacks from The Food Doctor - a Smokin' Edamame Mix and a Full of Beans Protein Mix. The snacks are high in fiber and a good source of protein.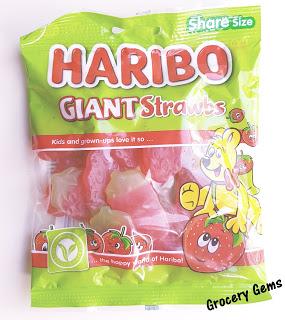 Haribo Giant Strawbs
: Funnily enough this is one variety of Haribo that I've never tried. They're suitable for vegetarians and are now available in this sharing size pack and smaller pocket size packs. The flavor is super fruity with a sour edge and they also have a soft but slightly sticky-to-eat texture.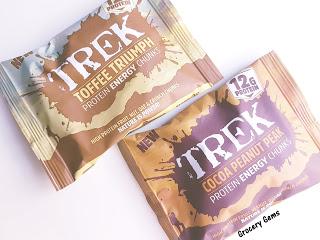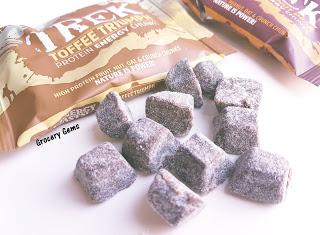 Trek Protein Energy Chunks
: Two bags of these Protein Energy Chunks in Cocoa Peanut Peak and Toffee Triumph from Trek. These are tasty cold-pressed nibbles made with natural wholefood ingredients. I enjoyed both flavours but I think the super sweet Toffee Triumph was my favorite.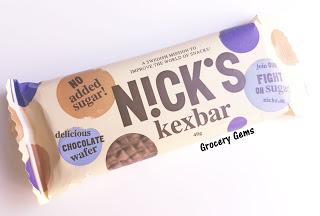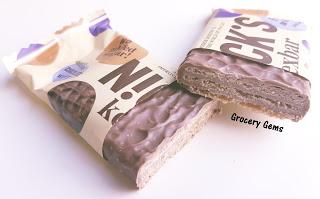 Nick's Kexbar
: A chocolate wafer bar with no added sugar (it's sweetened with Steviol). It's a tasty enough wafer bar with a nice vanilla sweetness.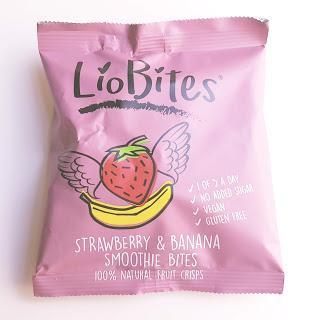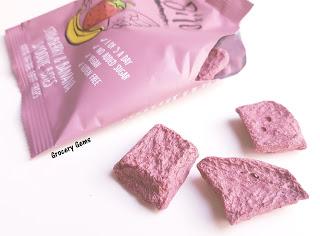 LioBites Strawberry & Banana Smoothie Bites
: These are 100% fruit crisps made with freshly frozen fruit smoothies that are freeze dried. They're also 1 of 5 a day and vegan with no added sugar. My kids really enjoyed the fruity flavor and fun crunchy texture.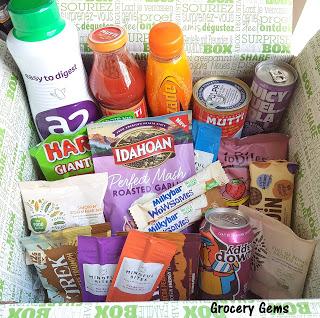 Once again I enjoyed the selection of surprise groceries in this month's Degustabox - there were plenty of new brands to discover. I was especially happy to find the Mutti Italian products, Juicy Fuel Cola and Idahoan Roasted Garlic Mash. I'd love to hear your thoughts on this months Degustabox in the comments below.
For more details:
Degustabox website: 
www.degustabox.com
Like on Facebook: 
https://www.facebook.com/DegustaboxUK
Follow on Twitter: https://twitter.com/DegustaboxUK
I received a Degustabox in order to provide an honest review.