Updates: Be on the lookout for updates throughout the day on this special blog entry about pop up moments. I will be adding material as it becomes available from people in the industry waking up in different time zones!
TAKEAWAY: I use the term since I first put my fingers on the screen of my iPad: pop up moments.  Those who follow this blog have come to expect the daily pop up moments that we see in newspaper apps.  Some of you are intrigued by the term and its use—-and how to achieve them.
Children of all ages love those pop ups
Everyone planning the iPad edition of the day at a newspaper magazine needs to ask the questions: what will be our pop ups today?
Perhaps ONLY one pop up is realistic, so that is the minimum.  One cannot have a true iPad edition that is linear and flat from start to finish.  I want to see some action.  A door that opens. A photo that turns into a video clip.
A photo that suddenly speaks to me.  Those are the pop ups that give longer legs to the storytelling process. They can be funny and entertaining (you see them daily here, mostly brought in from Frank Deville's pop up segments taken from Germany's Bild).  They can be serious and informative (showing you a 360 view of protesters in Cairo's Tahrir Square).  They all have one thing in common: they surprise, they make us happy that we are consuming information in this new and revolutionary tablet, the new platform of choice for so many.
For the storyteller in all of us, pop ups are an extension of that story.  That is how we give the story a voice, a bit of animation, an extension that allows us to penetrate where words may not take us.
I know it is not easy to do pop ups and especially when you first get your new app out the door. Believe me, I am in the midst of several 1.0 app creations now, and I know. But I insist, it is the pop ups that will make the difference.
So I study pop ups in books.  After all, it is those children's pop up books that inspire the term for me.  I go to where some of the most exciting pop ups are taking place——outside of Martha Stewart's kitchen in her recent iPad apps.
Take a tour of some pop up apps your kids will love
I don't know about you, but I use the iPad a lot when my grandkids are around me.  If we are not at the beach or watching for turtles or alligators by the deck in the back of my house, then we are playing with the iPad.
If I have my grandson Frankie Barravecchio by my side, it is all about Thomas the Engine and his friends, all of whom I know well.  So, alas, along comes the new Thomas & Friends iPad app, complete with pop ups that make me as excited as Frankie when I see the trains huffing and puffing going up those hills.

Thomas & Friends iPad
Alice in Wonderland for the iPad
Released in April 2010, by developer Atomic Antelope , take a look at Alice in Wonderland for the iPad. Rather than release the classic story as a simple e-book, Atomic Antelope embellished the pages with interactive, Monty Pythonesque animations that move when you touch or tilt the iPad. The pop ups here are special.Available now for $9 (a free "lite" version is also available).

The first 3D pop up book for the iPad?
3D Storybook - The Wrong Side of the Bed 3D! iPad app  Here the pop ups are 3D, but do not have to be.

Thumbelina for the iPad
Look for special pop up moments here
Readers' Digest iPad app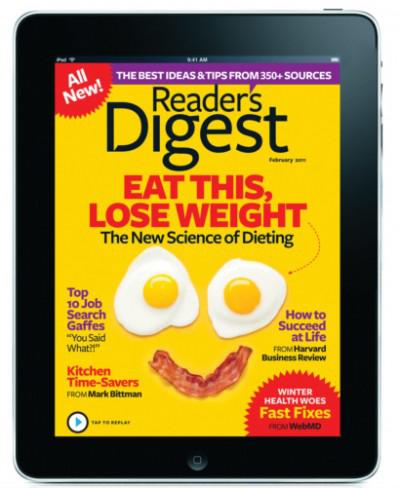 Bob Newman, the magazine designer who has been involved with the Readers' Digest iPad app design, shares some thoughts about pop up moments with us:
"There are a couple nifty things along those lines on the Reader's Digest app. #1 is the page called Word Power, which is at the "back" of the app. In the magazine it's just a two-page puzzle, but on the app it becomes an interactive game (and a good one, too!). You're given a word and have to choose between three definitions. A voice even pronounces the word for you. A correct click gets a check, a wrong pick gets an X. It sounds simple, but it's really fun.
"There's also a really nifty animation on the cover of the March app, done by Bryan Christie Design. And in the Misc Digest section in the front there's a nice slideshow of pig photographs, again, simple, but a nice treat (just press the little pig photo buttons). Finally, there's a page called Around the World that has a spinning globe/graphic.
Bob adds: "I have to say when I look through it that we don't have a lot of cookies popping out of the oven moments! I'm happy with the one we're just closing, because we paid a lot more attention to information architecture and how the print material is presented on the iPad. Short of a radical re-imagination of the content for the iPad, I think that usability and architecture are the big challenges."
Oprah Magazine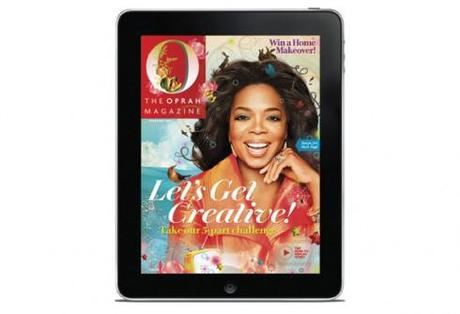 Leave it to Oprah to go pOp Up in grand style: her new O Magazine iPad app has SketchBook O, a free new painting and drawing app created specifically for O readers. You can use SketchBook O to submit your artwork for Oprah's creativity challenge through March 11, 2011. You create your pop up moments here!
See Oprah's "live cover" on her app.
The Solar System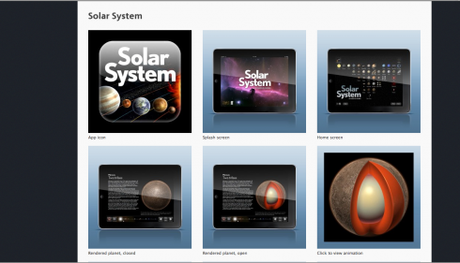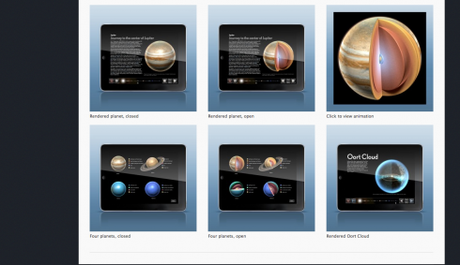 Joe Zeff teases us with his next big app project: "We are currently working on an app that is bursting with popup moments, but it's probably six weeks away. Can't wait to share it with you."
However, he leads us to his other project, The Solar Systemwhich he says has its share of pop up moments, for sure. "Particularly the way that one can tap on a planet and be transported into the solar system itself. We're also very proud of the peel-open planets we created for the app," he adds. 
Iconist
If you have not seen it yet, download Iconist, produced in Berlin.  See pop up moments for travel, food/wine, fashion!
"Basically the app is a continual pop up moment!," this is how Brian O'Connor, of Axel Springer, and partner/rethink GmbH describes the Iconist, perhaps one of the most pop up driven of all the magazines out there on iPad.
Take note
What a better and more fun way to learn about pop up moments than to download some of the children's books apps shown here (among others) and study them.
You don't have to have a child at home to enjoy them, although it helps if you see the little faces reacting to the pop ups.
Today's pop ups

Today's Bild pop up is in the sports department: Story of a top scorer in German football, M. Klose.  He has a choice between money and a coach.  So he can stay in Munich and get the top money, or go to a top club out of Germany.  The headline says Money or Klopp.  The rest is obvious in the pop up.
Klose is juggling two balls.
TheMarioBlog post #722