Fleetwood Mac has many facets in the form of their lead singer-songwriters. Lindsey Buckinghamis the serious "come-back-to-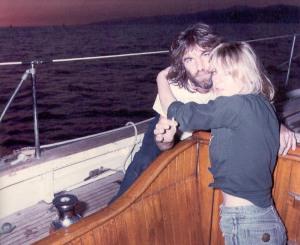 Late Beach Boy Dennis Wilson and Fleetwood Mac's Christine McVie
me-lover-I'm-desperate" songwriter. Stevie Nicks is the "let's give people a window into my life" songwriter. Christine McVie, is, for the most part, "the balladeer" of the bunch.
Once again, Christine outdoes herself on Only Over You from  1982′s Mirage. It's a ballad inspired by then-boyfriend Dennis Wilson of the Beach Boys.
McVie's use of keyboards coupled with the background vocals of the rest of the band are nothing short of beautiful. However, what makes Only Over You shine is it's beautiful lyrics: "People think I'm crazy/ But they don't know/ Thought love had failed me/ But now they're watching it grow/ Angel please don't go/ I miss you when you're gone/ They say I'm a silly girl/ But I'm not a fool."
Unfortunately their relationship did not last due to Wilson's heavy drinking. They broke up in 1981 and 2 years later, he drowned in the Pacific Ocean in Marina Del Rey, California.